The capacity to maintain a desirable temperature within our living environment is one of the things that has revolutionized the living experience for people all over the world. Early thermostats were made to maintain a temperature by sensing the temperature in the room and kicking on an air conditioning or heating unit. As time has gone on, more advances have been made in thermostats to allow for greater energy conservation as well as a wide variety of features.
You can choose a thermostat smart enough to hook up to other aspects of your home through Smart Home Technology, or simply control your temperature remotely from your smart device. Thermostats that learn can utilize the programming you give it to customize temperature to your desires and schedule.
Whatever your thermostat dreams, make sure you know what your heating and cooling system is and whether your desired thermostat will work with it. Depending on the voltage and source of heating and cooling, and whether you rely on a heat pump system for heating, you will need to choose a thermostat that works with your existing system.
Thermostat Buying Guide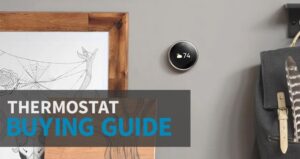 There are lots of thermostat brands to choose from, from makers of only the most intelligent smart systems to companies that produce a wide range of thermostats from basic manual thermostats to smart thermostats that rival those of the most exclusive companies. Consider your needs in a thermostat and then choose a company that produces quality thermostat that meet those needs.
If you want a smart thermostat, the market is wide open, with most makers making a smart thermostat or pairing together to make smart thermostats to meet specific needs. If you want an old-fashioned manual thermostat, your choices will be limited to old trusted brands like Honeywell and RobertShaw.
Types of Thermostats
Manual Thermostats
Manual thermostats are the most basic type of thermostats and generally the most affordable. Set a certain temperature and these thermostats will maintain that temperature.
These thermostats must be manually switched from heating to cooling and from cooling to heating, they will not maintain a temperature across vast fluctuations of outside temperature and so are not good for people who will be away from their home during temperature extremes, like those who live in the desert.
Most manual thermostats allow you to adjust from heat to cool or use a fan to circulate air without adjusting temperature. They do not allow any kind of remote connectivity and most do not indicate temperature, only allow you to set desired temperature.
Digital Thermostats
Digital thermostats are equipped with a digital display, usually on an LCD screen, so that you can clearly see what the current temperature is, as well as set the desired temperature, all in clear big numbers on a digital display that is typically backlit for dim or nighttime conditions.
While manual thermostats utilize a simple lever to adjust the temperature and do not indicate current temperature, digital thermostats allow you to clearly see your home's current temperature as well as the temperature you want to set.
Many thermostats also are equipped with indications of the temperature outside of your home and some will reveal other aspects like humidity as well. Many smart thermostats are also equipped with a digital display so that you can also see and program them directly.
Non-programmable
Non programmable, or mechanical thermostats are straightforward and easy to install. They operate when the metal bars within them are heated up or cool down, maintaining a constant temperature at all times. Generally these thermostats are the most affordable, but they may not be as reliable as more expensive thermostats.
Furthermore, the metallic strips that are used by many mechanical thermostats do not respond very quickly to temperature change, so there may be a delay before the thermostat responds to temperature changes.
Most non programmable thermostats allow you to change the temperature manually. Some have backlit LED display so that you can clearly see the current temperature as well as the temperature you are setting.
Programmable Thermostats
Programmable thermostats allow you to adjust the temperature in your home automatically at preset times. Such thermostats enable you to conserve energy by not heating or cooling your home while you are away, but still allow you to come home to a comfortable environment by making sure that your home is adjusted to the correct temperature at a particular time.
Simple programmable thermostats let you program daytime and nighttime temperatures, while more sophisticated programmable thermostats can adjust temperature depending on the days and times of the week.
Some programs available on most programmable thermostats include 7-Day programming which allows for different settings for each day, 5-1-1 programming which lets you set a program for the weekdays and different programs for Saturday and Sunday, and 5-2 programming which allows you to set two programmable periods with different settings for weekdays and weekends.
The simplest programmable thermostats only allow you to set one program for the entire week. Many programmable thermostats are now touchscreen, so you can easily make adjustments right on the screen.
Learning thermostats take programmable thermostats to the next level by taking that programming and adapting it to a schedule that will continue to adapt as your life changes.
Wifi Thermostats
Wi-Fi thermostats can connect to a wireless network so that you can access and control your heating and cooling remotely. Most Wi-Fi thermostats are smart equipped so they can connect to your smartphone or other device. Wi-Fi thermostats that connect to their own receiver are unusual now in the age of smart technology.
Wi-Fi thermostats offer all kinds of clever advantages over their manual competitors, like the ability to monitor and alter temperature from wherever you are, as well as learning programs that will predict and follow your behavior.
The most important thing you must consider if you are attracted to the features offered by smart technology thermostats is the strength of your WiFi signal. You must have a strong WiFi signal at your thermostat location for smart technology utilizing Wi-Fi to work, so test the Wi-Fi where you intend to install your thermostat to be sure that you have a strong enough connection. If your Wi-Fi signal is not strong enough, consider extending your Wi-Fi reach.
Unfortunately, if you have 220 volt electric, a WiFi thermostat will probably not work for you. You need the skinny or 18 gauge wires for utilizing a Wi-Fi thermostat. Wi-Fi thermostats exist for heat pump systems.
Conventional Thermostats
Conventional thermostats will not work with heat pump systems which require additional wires and emergency heat connections. A regular air conditioner has two wires while a heat pump unit has five wires, so heat pump thermostats have to have more wiring terminals, which the conventional thermostats don't provide. Therefore conventional heat/cool thermostats are suitable for most non-heat pump systems.
Manual conventional thermostats require you to switch between heating and cooling and will only maintain a consistent temperature if the outside temperature is colder or warmer and the thermostat is set correctly. Many programmable and all smart thermostats, on the other hand, can switch independently between heating and cooling depending on what is required to maintain the desired temperature.
If you have extreme temperature fluctuations in your area, for instance if you live in a desert area, it is important to choose a programmable thermostat that can switch for you between heating and cooling as the temperature changes outside to maintain a comfortable and safe temperature in your home. Thermostats that utilize smart technology can generally be expected to switch between heating and cooling as necessary by themselves, called auto-changeover.
Heat Pump Thermostats
Heat pumps use warm air from outside or from another source like water or ground heat to heat your home for as long as it can, until it gets too cold outside for the heat pump to supply enough heat. These systems greatly increase efficiency in heating your home and are even required in some areas.
They work by utilizing natural heat sources as much as possible so as to reduce the amount of heat that needs to be made by a furnace or electric source. This is not only more energy efficient and cost efficient for you, the homeowner, but it also limits the unnecessary use of natural resources.
A thermostat that works with your heat pump will recognize when the heat pump can no longer keep up with the desired heating needs of your home and will be able to switch to supplemental heat to utilize electric resistance or furnace heat to provide for the heating needs for your home.
Most of these thermostats also are equipped with an emergency heat setting in case the heat pump fails and sudden reliance on the supplemental heat source is abruptly required.
Some new owners of a heat pump will be tempted to use the emergency heat setting on their thermostat when it gets very cold, but this is generally not necessary as the thermostat should be able to regulate for itself when it is necessary to switch from heat pump to supplemental heat.
Smart Thermostats
The world is getting smarter, and this is no less true for thermostats. Thermostats can now communicate to your smartphone or other smart device using Wi-Fi. The ability to remotely check and change the temperature of your home utilizing an app will allow you to not only adjust temperature remotely when you are going to come home unexpectedly, but also keep track of unexpected temperature changes when you are traveling.
A furnace breakdown in a cold climate could endanger house plants, pets, and freeze unprotected pipes, while a broken air conditioner in hot climates could also endanger pets as well as creating conditions that may lead to mold and other negative consequences in your home. The capacity to measure temperature remotely will let you know that everything is okay while you are away.
Furthermore a smart thermostat can allow easy programming utilizing an intuitive app instead of trying to figure out sometimes confusing controls on the thermostat. Some thermostats are so smart that they will know when you are home or away and learn your schedule and set your temperature preferences accordingly.
Some thermostats have a feature that will track the location of your smartphone so that it knows when you are likely to come home. This enables your thermostat to save energy for you and also provide a comfortable environment for you to come home to without you having to think to program it.
If you have a large home or somebody in your family has limited mobility, a smart thermostat can allow you to change the temperature from where you are without having to go to the receiver.
Smart thermostats offer fun features like changing color to match your preferences, displaying pictures, or playing music. You can even find thermostats that work with multiple sensors so that you can monitor temperature in different rooms, which is especially useful for older homes that tend to have drafty areas or for multiple story homes that tend to get warmer or cooler in one area or the other.
The smartest thermostats pair with Smart Home Technology to increase your ability to communicate with them just by talking to them and allowing you to connect multiple sensors utilizing Smart Home Technology.
Best Home Thermostat Brands
Honeywell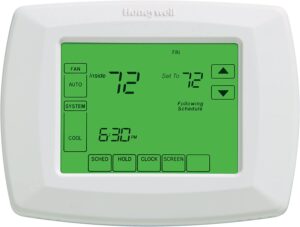 Honeywell is a large company that aims to combine products with computer engineering and smart technology to improve all kinds of aspects of your life from homes and buildings to vehicles and aircraft. Their goal to create a more comfortable and safer world shows in the convenient features offered in their generally affordable thermostats.
Honeywell offers features like backlit thermostats, thermostat that are battery-powered for wireless operation, and thermostats that have touch screens for the most convenience in operation.
Whether you are looking for a Wi-Fi, non-programmable, programmable, or heat pump thermostat, Honeywell has great options for you. Their products range from small and affordable digital thermostats to large Wi-Fi devices with 7-Day programming that can tell you all kinds of things about your home.
The most top-end thermostats go for from $150 to $200. While this is certainly pricey compared to the affordable prices of the manual or basic digital programmable thermostats, when you consider the prices of some of the top of the line smart thermostats, these prices look more affordable.
Click here to read our Honeywell Thermostat Buying Guide.
Nest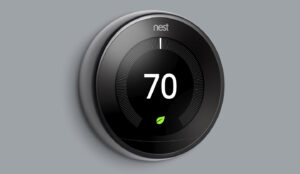 Nest thermostats are designed with energy saving in mind. Nest thermostats don't just provide you with the capacity to program desired temperature changes, these thermostats actually learn so that they can save you energy and keep you comfortable without you having to do anything after the first few days. When your routine changes, just program your new preferences and the nest will remember and adapt.
For the first few days you can program your Nest thermostat with your desired temperatures, after that you'll find yourself needing to adjust the temperature less as the thermostat learns your routine and your desires. This thermostat knows when you leave the house and will turn the temperature control down so that you won't find yourself heating or cooling an empty home.
This thermostat will learn your home, how drafty it might be, and how long it takes to cool down or heat up. Awareness of these attributes will help this thermostat before more effective. These thermostats are smart equipped so you can control and monitor the temperature anywhere from your smart device.
Nest looked at the energy bills of real people in 41 American states and found that when people switch to Nest thermostats they saved an average of 10% to 12% on heating and 15% on cooling, saving over $100 a year. At around $200, these thermostats aren't cheap, but if they save as much as they claim to they will have paid for themselves in a couple of years.
Click here to read our Nest 2nd and 3rd Generation Reviews.
Wondering what the difference is between the Nest vs Ecobee?
Ecobee
For the ultimate compatibility with your entire home system, the Ecobee thermostat is right for you. The home of the future is here, with complete control over music, lighting, and of course, temperature. The smarter home doesn't come cheap, with a price tag of around $250 for an Ecobee thermostat.
A room sensor helps you to manage hot or cold spots, especially convenient if you have an older house that tends to be drafty in some areas and stuffy in others. It comes with Amazon's Alexa built in so that you can ask Alexa to control your lights, play podcast or music, or control other devices in your home that are voice enabled.
If you are wondering about something, just ask your question aloud to Alexa and this convenient thermostat will provide it. You can control the temperature of different parts of your home from any room in your house by asking the closest Alexa device.
Temperature and occupancy sensors recognize when the room is getting crowded and kick in to adjust temperature accordingly. Whatever platform you love, this versatile thermostat can work with it, whether it is Alexa, Apple homekit, Google Assistant, SmartThings, or IFTTT.
This unit is designed for easy installation so you can have it up yourself in about 45 minutes. Pair with Ecobee's Switch + for a light switch that does much more than turn on the lights utilizing voice control, but can also communicate with the thermostat.
Please see our Ecobee3 Review and Ecobee4 Review
White Rodgers
For 75 years White-Rodgers has been offering increasing control over personal comfort. They offer products for heating, refrigeration, and air conditioning. Their designs have won awards and lead to cutting edge Solutions.
Thermostats by White Rodgers are compatible with wiring present in most homes and are fast and easy to install. They offer thermostats that are compact and easy to install, as well as professional-grade thermostats for industrial or business uses.
Whether you choose an easy to use do-it-yourself thermostat or a professional-grade thermostat, you can feel confident of the innovative and intuitive design and quality of these thermostats.
The sleek Sensi™ Wi-Fi Thermostat will keep you connected to your home's temperature no matter where you go. Use the intuitive app to control your thermostat from across the room or all the way across the country.
The minimalist design of this thermostat looks discreet on your wall, while the subtle but bright backlight is perfect for night time or low light programming. This thermostat also features an on-screen humidity reading to tell you more about your home's environment.
Installation is easy to do yourself. The easy-to-use app will let you know if your system is heating or cooling at a glance by changing temperature. This thermostat utilizes geotracking to automatically locate you and adjust the temperature for whether you are coming home or leaving accordingly.
At around $130, this affordable thermostat by White Rodgers offers many of the features of higher-priced competition. For another $30, you can get a colorful touch screen display that will look great on your wall in addition to the features of the basic thermostat. For more extensive control, the Sensi multiple thermostat manager can allow you to connect as many sensors as you want for complete control over your entire home or business.
Please see our White Rodgers Thermometer Reviews here
Robertshaw
RobertShaw is a huge company that offers a large variety of products to service all areas of your home as well as your business. They offer wall thermostats that are mechanical, non-programmable, programmable, or smart. The straightforward mechanical thermostats offer an easy to use temperature dial and look nice on your wall.
These are quick and easy to install and have a large knob so it is easy to adjust temperature. A universal fit will allow you to use these to replace most existing heat thermostats.
These thermostats offer bi-metal temperature sensing to allow them to perform better than older thermostats. If you want one of the most affordable but effective thermostats on the market, consider a mechanical thermostat by Robert Shaw.
Non programmable thermostats by RobertShaw offer a digital display in a cost-effective thermostat. These thermostats are quick and easy to install and very easy to use with a backlit display. If you are willing to invest a little bit more into a thermostat that will tell you the temperature as well as allow you to adjust it, these are a good choice for you.
The programmable thermostat has lots of features for the price and is easy to install. The large backlit touch screen display makes it easy to use and see. Three heating and two cooling systems can be programmed for two or four daily events, or use the waking, sleeping, day, and evening settings for precise comfort in this affordable programmable thermostat.
The top of the line thermostats by Robert Shaw are smart Wi-Fi thermostats with 7-Day or 5-Day programming. Lots of features as well as versatile compatibility with single stage conventional or heat pump systems make this a top-of-the-line smart thermostat.
Emerson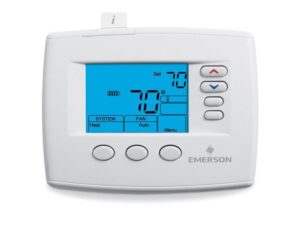 Emerson offers a wide range of thermostats from affordable and basic low voltage mechanical thermostats all the way up to smart equipped thermostat that are packed with features. Even the most basic model of mechanical thermostat still show temperature and all thermostats are easy to use.
Programmable thermostats are offered for universal, heat pump, and conventional systems. The large display coupled with the bright backlit and high contrast screen make these thermostats easy-to-use, and you can select programming from 7 days or 5-1-1 for separate programming for the weekends. This comes standard on all programmable models.
Emerson also pairs with White-Rodgers to make products like the blue easy reader thermostat that is especially easy to read for those with failing eyesight. This exceptionally easy to use and see thermostat can fit the specific needs of the aging population.
How to choose a Thermostat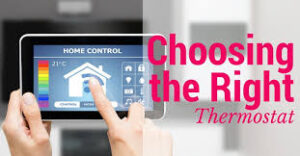 There are a surprising number of options available for you to choose from when shopping for a new thermostat. Some of these choices are optional while others are necessary depending on the heating and cooling setup of your home. The thermostat you choose depends on the type of cooling and heating system you have, as well as the features you want.
The most important thing you will have to determine before choosing a new thermostat is whether the thermostat will be compatible with your system. Most systems are central heat or central heat and air, which can be run off of gas, oil, electric, or 24 volt.
You may also have a fireplace or furnace for heat, or you may utilize heat pump technology in addition to a more traditional source of heat. All of these aspects will affect what kind of thermostat you choose.
Once you have determined what kind of choices you need to make in a thermostat, you can begin to consider what kind of features you want. Depending on how much you are willing to spend, you can choose between thermostats that are compatible with an app on your smart device or can work with the other smart devices in your home, or a simple thermostat that can perform the simple function of maintaining a set temperature.
If you live in an area with extreme temperature fluctuations or expect to be away from your home for extended periods while seasons change, make sure that the thermostat you choose can switch between heating and cooling by itself. For an extra layer of security, choose a thermostat that can communicate with your smart device so that you can make sure temperatures are appropriate at all times while you are out of your home.
Smart thermostats can allow you to monitor and change temperature remotely for the most control over your home's temperature no matter where you are. Some smart thermostats can even connect to other smart technology in your home for a home that you can control completely from your smart device. If keeping up with the future is important to you, a smart thermostat may be worth the investment.
Programmable thermostats allow you to set your preferences ahead of time and then the thermostat will follow the schedule that you provide. Some thermostats allow you to choose unique settings for each day, while others give you options for the weekend or only allow you to set the same schedule for every day of the week.
Carefully consider how important it is to you to have flexibility in your programming and whether you will remember to change the program once your schedule changes. The program can, of course, be easily overwritten if you find yourself home unexpectedly or are going on vacation.
Learning thermostats start out the same as programmable thermostats but you will find that after a few days of initial programming you don't need to program them anymore, as they will have learned your routine and preferences.
Such thermostats are extremely energy efficient, as they will remember for you to adjust temperatures and notice if your routine changes. Often learning thermostats connect to your smartphone or other smart device utilizing Wi-Fi, and these thermostats will be at the higher end of the price threshold.
If you are home most of the time and don't mind manually changing temperatures to fit your needs, and you want an easy to use and affordable thermostat that will not connect to a smartphone but will make it easy for you to see and program, consider a digital non-programmable thermostat which will offer a large LCD screen.
For the most affordable thermostat, consider manual thermostats which will allow you to set a temperature which will be maintained until you change it.