This Ecobee3 Smart Thermostat Review tells the tale of the world's "Best Smart Thermostat." We discuss everything you need to know about how it works, its extensive list of features and capabilities and even what separates this product from its competitors. Continue reading to see if this super smart thermostat is right for your home.
Ecobee 3 Smart Thermostat Reviewed
This Ecobee3 Smart Thermostat Review tells the tale of the world's "Best Smart Thermostat". Buy one today to start saving money on energy and simplify life.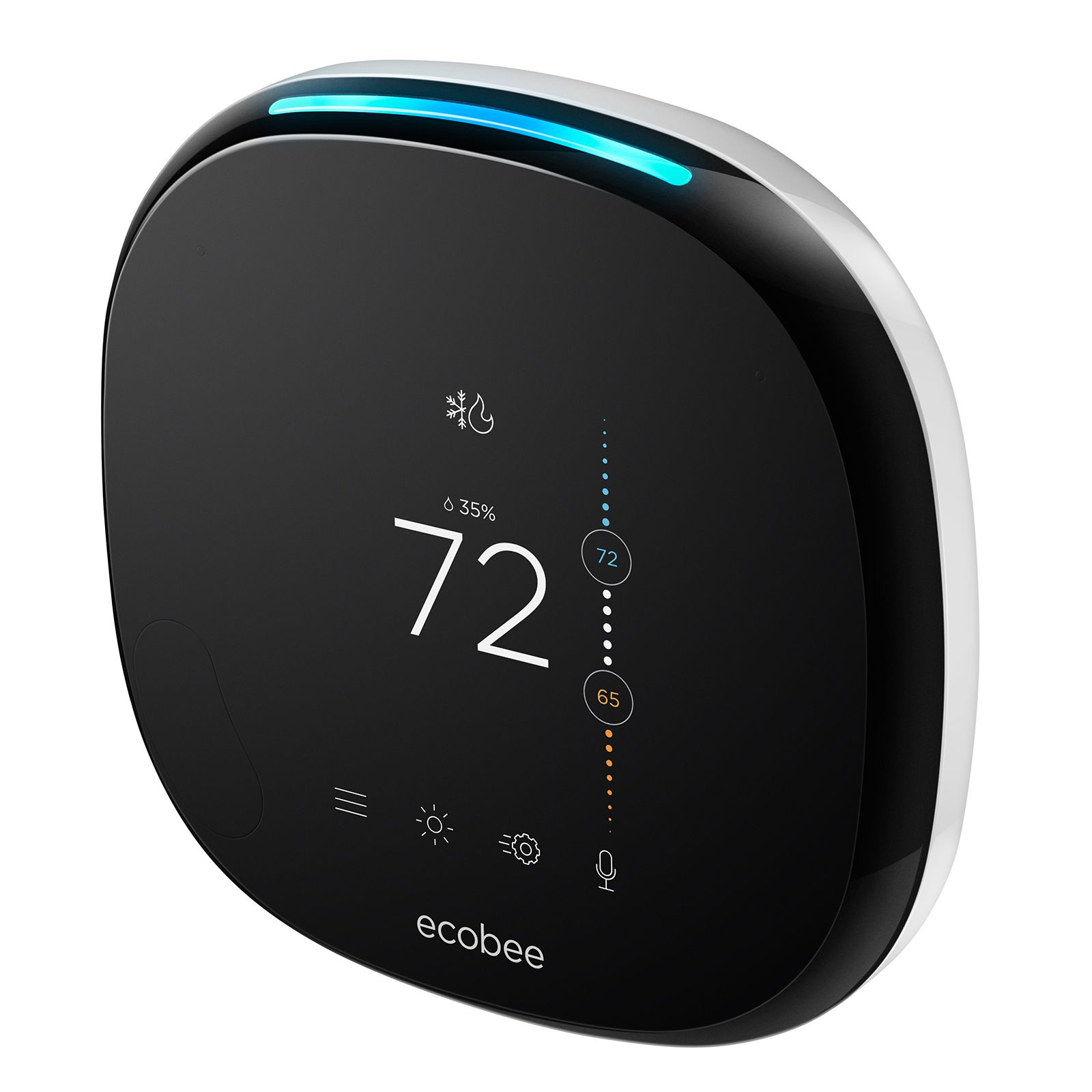 If you've been searching for the Best Smart Thermostat available, this Ecobee3 Smart Thermostat Review will put you on the right path. There're three main rival competitors in the remote control thermostat industry: Ecobee, Nest and Honeywell.You should research each product before making a decision because each product offers unique features.
The three Ecobee products to consider when looking at their thermostat control product line are the Ecobee3, the Ecobee3 Lite and the Ecobee4. The main benefit of the Ecobee4 is that it offers Amazon Alexa built-in. The only notable difference between the Ecobee3 and the Lite version, is that the Lite version is not compatible with accessory controls, i.e. de-humidifiers, dehumidifiers, ventilators etc.
Remote Sensors
What makes the Ecobee3 Touchscreen thermostat stand out from its competitors is its revolutionary remote sensor technology. The motion and temperature sensors are sold in 2 packs and they give you the ability to control the temperature of each room in your home that has a sensor in it.
Ecobee3 Review of the Innovative DataRhythm Technology
This intuitive software is built-in and is another feature that clearly separates the Ecobee3 from its competitors. Other smart thermostats need to be taught or programmed to maximize your energy savings. DataRythm is self learning by automatically analyzing thousands of factors, including outside hot and cool temperatures, your sensor settings, your home's energy audit and more.
This Ecobee3 2nd Generation unit offers a variety of different smart mode options, features and customizable settings. It's remote control compatible with Android and iOS Devices (iOS 9 or later,) including most smartphones, tablets, computers and more.
Smart Modes and Options
Follow Me Mode* automatically turns sensors on/off as you move from room to room.
Sleep Mode turns off sensors in specified rooms to save energy throughout the night.
At Home Mode turns all sensors on to the temperatures you programmed.
Away Mode offers maximum savings when you're away for a set amount of time.
You can schedule both away and at home periods based on your regular schedule.
Home IQ provides monthly statistics and energy saving tips, an energy audit of sorts.
*Most small pets will not set off motion sensors.
Features and Customizable Settings
Easy temperature adjustments can be made with up/down slide feature.
Notifications when issues are detected and for regularly scheduled maintenance.
Compatible with most smart home devices for control of music, lighting, shopping etc.
Touchscreen displays time, date, temperature, humidity, live weather etc.
DataRhythm technology considers thousands of variables to learn about your home.
3 year limited manufacturer's warranty.
Compatible with Several Third Party Services
Amazon Echo (Alexa)
Apple Watch
Apple HomeKit* (Siri)
IFTTT
Samsung SmartThings
Wink
And more …
* Requires Apple TV 3rd Generation or later and Apple TV Software 7.0 or later.
Product Specifications
3.93" rounded square unit.
.86" depth.
3.5" full color LCD QVGA touchscreen.
320 x 480 pixel display.
Works with conventional electric, oil, gas and duel fuel systems (2H/2C.)
Compatible with heat pumps (4H/2C), humidifiers, dehumidifiers, ventilators etc.
Can sense temperature, motion and humidity levels around the unit.
Temperature control can be set anywhere between 45 to 92 degrees Fahrenheit.
Hardwired for reliable continuous operation.
Includes one large and one small trim plates for mounting.
Allows up to 32 wireless sensors to be connected at the same time.
Includes a Power Extender Kit to avoid running a C wire with older systems.
Bandwidth usage is about 15-20MB/Month.
Wifi protected access to central heating controls.
Mercury, Arsenic and PVC Free, ROHS compliant and unit comes in recyclable packaging.
Lockable with built-in wifi and backlit display.
Remote Sensor Specs:
1.7" rounded square unit, 2.12" with stand.
.78" depth.
Requires CR2032 coin-cell batteries.
Can sense temperature and motion around the sensor.
45' operation range.
Installation Process
Unlike some smart thermostats, the Ecobee3 offers 2 different methods of installation, depending on the type of HVAC system your home has. For home heating systems that have a C wire, installation of the digital thermostat should take less than 45 minutes. Ecobee3 technical support is available for troubleshooting at 1-877-932-6233 and there's an installation wizard and quick start guide in the units software application.
Additional Resources
For assistance with getting professional help with the installation – Want a Professional Installation?
To view warranty information – View Product Warranty PDF
To view technical specifications – View Technical Specifications PDF
To view user guide – View User Guide PDF
If you're thermostat wiring is older it may not have a C Wire and that makes installation a little more complicated. Some electrical expertise will be needed to use the included Power Extender Kit or PEK to avoid the need for a C wire connection. You can install the PEK to the controller board yourself if your electrically inclined, if not you may want to hire an electrician to ensure it's done correctly.
Pros and Cons of Smart Thermostat Ecobee3
Pros
The remote sensors allow complete room to room temperature control. When you leave they shut off and when you come home they turn on.
The innovative DataRhythm technology teaches itself the best ways to save money based on an extensive list of variables unique to your specific climate, schedule and preferences.
Compatible with voice services like Alexa and Siri, most smart home devices for complete in-home connectivity and most all modern Android and iOS Devices.
Comes with a Power Extender Kit that eliminates the need for a C wire connection during installation.
Ecobee3 is Energy Star Certified and could save you as much as 23% in heating and cooling costs annually.
Cons
The temperature adjustments operate via an up/down slide feature that can be a little sensitive when trying to adjust only a couple degrees. This is an easy fix in a software update.
The unit and sensors have a sleek modern design, but the materials used are a bit cheaper than those used by competitors.
While you do have as much control over the temperature in your home as can be expected, the ability to redirect hot and cold air in-between rooms is still not possible.
The unit is not fully compatible with air conditioners, however if setup properly, it can use the de-humidifier feature to adjust humidity levels in its immediate vicinity.
Conclusion
There can be no doubt that the Ecobee3 is paving the way for all future smart thermostats. This Ecobee3 Review found that it's compatible with most residential heating and cooling systems. In the instances where it's not, it provides an alternative installation option specifically for those systems that don't have the C wire connection.
The revolutionary remote sensors offer options that until now were only available in our dreams. The benefits of this sensor technology are extensive. Some super cool aspects you may not have considered are:
You can keep nurseries at cozy, safe and reliable temperatures
Guest rooms can be set to motion and only activate when someone enters the room
Ideal for the disabled/elderly, complete control from anywhere in your home, heck the world!
Ecobee is based in Canada and they were the first to offer a wifi enabled thermostat. The company also offers the Ecobee Switch+ (world's first light switch with built-in Amazon Alexa) and an Energy Management System (EMS Si) for commercial applications.