One such product is the ecobee4 smart thermostat. This is a product that is easy to install, can save you money, and has enough features to keep even the most tech-savvy families happy. Here's a look at the gadget and what it can do.
Ecobee4 Smart Thermostat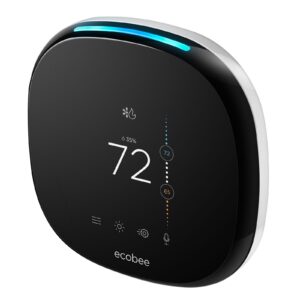 Ecobee4 Design
This Ecobee4 has a modern design that is not just a piece of functional hardware, but is also the perfect size to go on your wall. The main unit is essentially a black square, with round edges, to give it a more circular feel. It has a black face and the back is white.
The room sensor is a smaller white square, which is designed to be set up somewhere else in your home. These two components should be able to go with any décor without clashing, and the base is large enough to see and navigate at all times.
Ecobee4 Thermostat Specs
The 3.5-inch display on this model is large enough to clearly make out the buttons and set up the functions when you need to change settings. Other impressive specs include that you can hook this one up to your house, no matter if you have gas or electric power, and the built-in 2.4 GHz Wi-Fi capability.
You will only need about 15 MB bandwidth a month to use this, if you intend to use the Alexa skills. It is able to keep a wide range of temperatures and humidity levels, depending on your preferences, and is free from harmful substances, including mercury, arsenic, and PVC.
Ecobee4 Features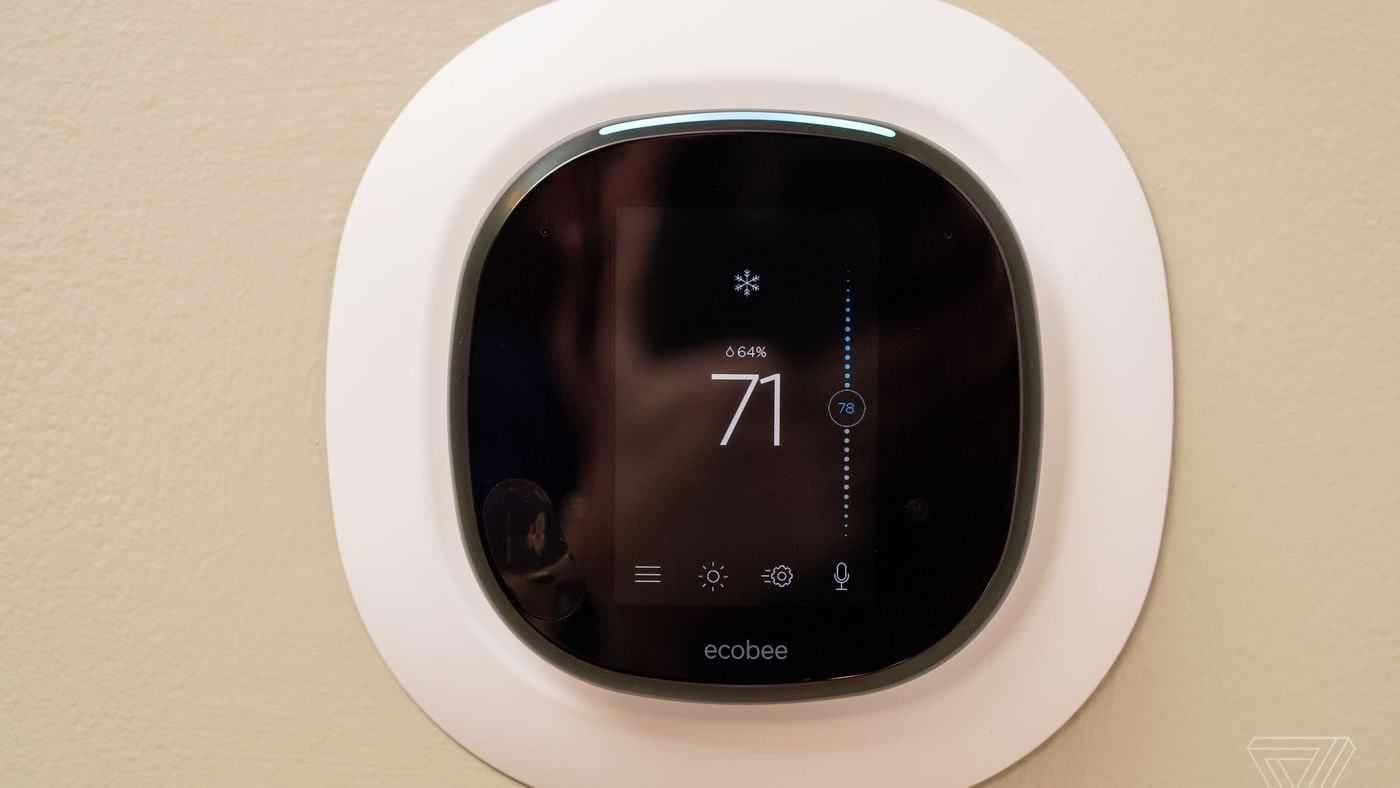 In addition to cool specs, there are a handful of features for you to take advantage of when you own one of these little wonders.
Easy to install
Unlike other products that may take hours to install, this one should not take more than half an hour or so. To set it up, all you have to do is follow the guide that comes with the item. It is designed to be hardwired to your home, so you won't have to worry about it going out often or losing the ability to do what it's supposed to do.
Likely to save you money
There are many ways that this one will be able to save you money. One way is by keeping your house cool in the summer and warm in the winter, in the most efficient way possible.
It can also be programmed to keep an optimal air temperature and humidity level, which means you won't have to keep adjusting it to stay comfortable. Additionally, it is able to use air from outside to keep your house cool when possible, and it can monitor the weather in your area at all times, to ensure that your home stays at the proper temperature.
All of these things can work together to save on your electricity costs and it will even tell you if something is wrong with it, allowing you to remedy an issue before it becomes a large problem or requires expensive maintenance.
Works with other smart devices
The ecobee4 thermostat has fully integrated Alexa connectivity, along with a speaker and a microphone, so that you can relay commands in order to operate it. However, you don't have to use Alexa with it if you do not want to.
It is able to work with other smart devices as well, such as Google Assistant, Apple HomeKit, and SmartThings. In other words, whatever smart speaker or virtual assistant you like to use, you should be able to use it in conjunction with this thermostat.
Can pair with app
You can control your ecobee4 from wherever you are. Simply install the mobile app on your mobile phone or watch, and you can set functions when you're at work, on the road, or even when you are on vacation. You can give it commands this way; it's just like being at your house, even when you are not.
Pros and Cons of the Ecobee4 Smart Thermostat
Pros
Comes with a 3 year warranty
Can purchase additional room sensors
Easy to use
Designed to last a long time
Cons
Needs work for full Alexa functionality
May not hear you with ambient noise present
Who Should Use This Product
If you have been hearing about smart thermostats and want to try one, this is something that is reliable and easy to learn how to operate, even if you aren't too experienced with smart devices.
Another great reason to pick one of these up is if you already use Alexa, Cortana, or any other virtual assistant, and want to add more products that use them into your home. Since this model can save you time, money, and keep your home cozy, it's something that is worth trying for yourself.
The Ecobee4 Review in Conclusion
While there are a number of smart thermostats on the market to choose from, this ecobee4 is able to offer you features that you can't really see in other places, including the ability to talk directly to Amazon Alexa without having to buy any extra equipment.
The fact that it wires into your home is also a plus, since it won't run out of batteries at an inconvenient time or when you need to use it most.
You may have to experiment with it a bit to make sure that it can understand your commands and how you want it to work, but once you learn all the functionalities and set them up the way you like them, you will be able to control and monitor them wherever you are.
It also comes with a warranty and a money back guarantee, so you are not out of anything if you don't like it or you need to get it serviced because of a flaw. Overall, it is a deceptively small device that can accomplish a variety of useful things for you and your family.
Be sure to check out our Ecobee3 review as well!