Whether you are an amateur griller or are experienced at grilling a wide variety of meats, you may find yourself wanting the convenience of an igrill App-connected thermometer that will alert you when your food is done. This igrill reviews will compare the igrill 2 vs 3 so you can determine which is best for you.
The igrill 2 is a stand alone model that can be used for cooking on any grill. Whereas the igrill 3 is specifically designed to be used only for Genesis II, Genesis II LX and Spirit II grills. If you don't own a Genesis II or Spirit II, we recommend going with the igrill 2.
Even if you are well accustomed to tracking your meat and knowing when it is done and what the conditions of the grill should be like. Or if you are juggling cooking other foods or would like to enjoy relaxing with your friends and family instead of monitoring your meat, a Weber igrill thermometer can make your next barbecue simpler. As well as, allow you to cook the perfect barbecue every time effortlessly.
Impress your friends and family with the ease with which you can produce the perfect results. While monitoring your Weber igrill 2 or 3 discreetly using your smartphone or other Apple or Android device.
iGrill 2 vs iGrill 3 Comparison
Wondering what the difference is between igrill 2 vs igrill3? See our Weber igrill reviews to find out. Plus why the igrill 2 may be the best one to buy.
Both the iGrill 2 and the iGrill 3 are excellent Bluetooth thermometers for measuring both the meat and the ambient temperature within your grill and alerting you to temperature extremes or your meat being done. Not many changes were made in the Weber iGrill 2 vs 3 except for the compatibility. While you can sometimes find the iGrill2 at a lower price, it is typically priced the same as the iGrill3. The Weber iGrill 2 can act as a standalone tool with any grill. While the Weber iGrill 3 is only compatible with Genesis and Spirit grills. This is the primary difference between these Weber igrill thermometers. The iGrill 3 also has an LP tank level indicator that is not easily accessed within the app.
iGrill 2 Review
The iGrill 2 is a Bluetooth thermometer that is connected to an app on your phone. So you can constantly monitor the doneness of up to four cuts of meat at a time, from beginning to end. This Weber igrill thermometer will notify you when your food has reached just the right temperature. So that you will never overcook or undercook your grilled food again.
Whether you have been grilling for years or you are just stepping into this wonderful way of preparing meat and other foods, this igrill 2 thermometer can make the process of grilling the perfect meal easy for you. This app can run on Apple or Android so that you are likely to be able to use it no matter what phone you have.
At around $70, this igrill2 is not a cheap investment. When you consider the meals that will be safe from over or undercooked meat, this is a worthwhile investment to you. The Bluetooth signal of this thermometer will be strong enough to reach from most grills to most kitchens. Although be aware that if your home is made of concrete or brick, or if your grill is located a far distance from your house, the signal may cut in and out.
Pros
Connect to an app on your phone whether you use Android or Apple
Bluetooth connectivity will reach from most grills to the kitchen
Multiple probes for measuring ambient and meat temperature
Works with any grill
Cons
Bluetooth signal may disconnect if you have a brick or concrete home or if you get too far from thermometer
Won't work as well with LX and Genesis grills
---
iGrill 3 Review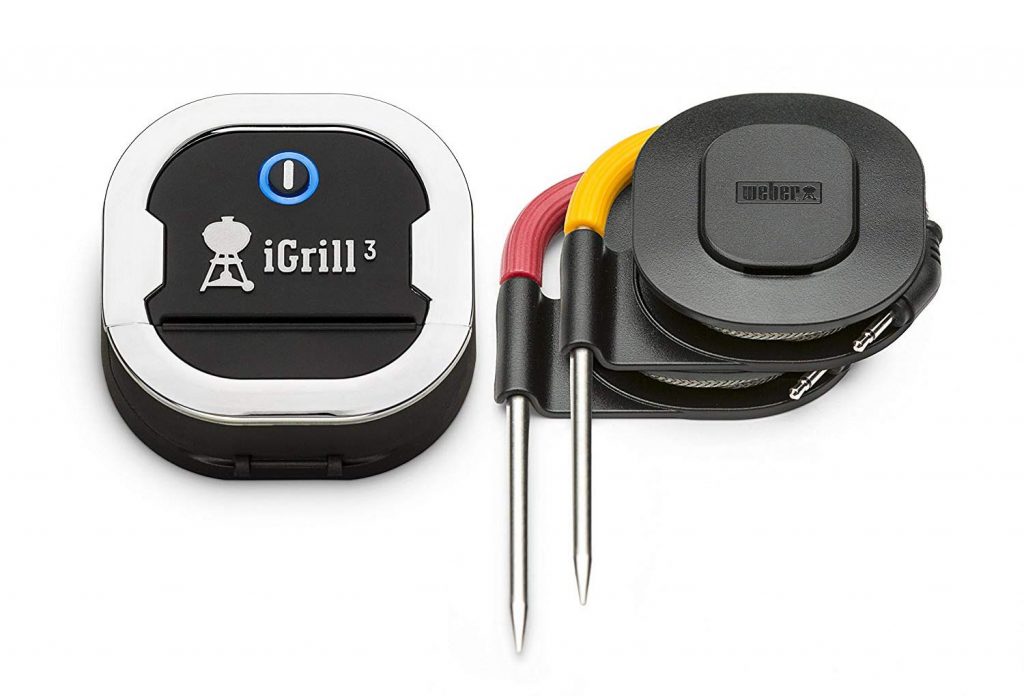 This iGrill 3 thermometers made by Weber will enable you to connect your Spirit II or Genesis II Grill to your smartphone. You can use up to four probes, two meat probes are included. Ambient temperature probes sold separately. Select what kind of meat you are cooking, and just wait for the thermometer to tell you when the correct internal temperature has been reached.
This is an ideal tool for an amateur griller. Takes all the guess work out and will alert you when your food is done, freeing you up to socialize with family and friends. You can control this grill using a carefully designed app for either your Android or Apple device. Connect phones, tablets, or laptops for versatility in your monitoring. The iGrill 3 thermometer offers minimum and maximum temperature alerts so that you can monitor not only the correct temperature of your meat but the ambient temperature of your grill as well.
Both custom and preset alerts allow you to either choose an easy temperature by meat option or customize your cooking as you develop your skills. If your grill uses liquid propane, you can use fuel level detection on this thermometer to measure how much fuel you've used and how much you have left from your smart device.
Pros
Connect up to four probes to thoroughly measure your meat temperature
Connect to app on either Apple or Android device
Minimum and maximum temperature alerts
Custom or preset temperatures for meats
Cons
Newer model has not resolved connectivity issues with Bluetooth, so if you are too far from the thermometer or if your home is made of brick or concrete, you may lose signal
Previous model can sometimes be found for lower price
Specifically designed for only Spirit II and Genesis II grills
Conclusion
Both the igrill 2 and 3 can monitor ambient temperature as well as internal meat temperature. If you own a Spirit II or Genesis II series grill, the igrill 3 is an ideal choice. Otherwise, you should opt for the igrill 2, as it's compatible with any grill, including smokers like Green Eggs.
For even more Meat Thermometer options see our Meat Thermometer reviews page.