Learn why the ThermoWorks Thermapen MK4 was rated #1 by America's Test Kitchen in this Thermapen MK4 review. This versatile and durable thermometer can achieve full readings in only two or three seconds, and it makes no compromises on accuracy to achieve this speed.
Thermapen MK4 Review
Using this pen is incredibly intuitive. You can hold it in any direction and the clever display automatically rotates to make reading it a breeze. You will never have to cock your head to read the thermometer again. Temperature is displayed instantly on the large and easy to read LCD screen. You won't have to wait for a reading or be concerned about accuracy with this fast and fine-tuned thermometer.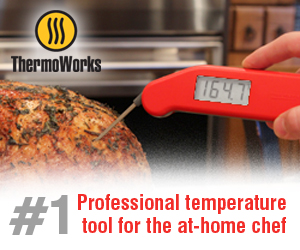 Specs
Range of -58.0 to 572.0°F (-49.9 to 299.9°C)
Accuracy of ±0.7°F (±0.4°C) from -58 to 392°F
4.3 inch K probe
3000 hour battery life without backlight
Pros
Protected from dust and immersible in water up to 39" deep for up to half an hour
Readings in two to three seconds
Patented auto-rotating display
Choose from 10 fun colors
3000 hour battery life
Motion sensing sleep and wake.
Cons
Not dishwasher safe
Can't be exposed to temperatures over 122 degrees
Conclusion
The ThermoWorks Thermapen MK4 is the most finely tuned and accurate thermometer that you are going to find. While this isn't a cheap new kitchen tool, it is a thermometer that you can expect to have for the long term. If you are wondering where to buy a Thermapen MK4, you won't find them on Amazon. These thermometers are sold directly from the manufacture .
Thermapen MK4 vs Classic
The Thermapen Classic made huge advances in temperature sensing technology and was a new favorite of chefs everywhere, but the Thermapen 4 has gone even further to make it a joy to use in the kitchen and at the grill. When you compare the Thermapen MK4 vs Classic it is easy to see how many advances have been made in the MK4.
Perhaps the most important advance is in accuracy. The professional grade thermocouple technology used in the MK4 provides much more accurate results than the less precise thermistor technology.
The new motion-sensing design makes it much easier to use this thermometer. Just pick it up and it will be ready to detect temperature. When you're done, you don't have to worry about turning off the unit to conserve battery. If you are working with lots of food cooking at once or need to frequently check temperature, this can be a huge difference in your experience using this thermometer.
It is easier to read the MK4 than the classic, as well, since the MK4 autorotates so that the information is always at the ideal angle for you to read it. The intelligent backlight makes the MK4 easy to read even at night, unlike the Classic. Instant display of the temperature means you won't be waiting around for a reading.
The battery life has been improved from 1500 hours on the Classic to 3000 hours on the MK4. The Thermapen Classic isn't waterproof, and only has six colors instead of ten.
The Classic comes at a cost of about $20 cheaper than the MK4, so if none of these advances sounds important to you it may not be worth it to you, but you do get a lot more for the $20 when you upgrade to the Thermapen MK4.