The Lavatools Javelin and Lavatools Javelin Pro are both excellent thermometers that will read with astounding accuracy and make ease-of-use their primary objective. The Javelin came first and while it has many great features the Pro has made somLavatools Javeline considerable improvements, primarily in ease-of-use and in display. Read on to compare the features of the Lavatools Javelin vs Javelin Pro to decide which thermometer will meet your needs best.
Lavatools Javelin Vs Lavatools Javelin Pro
Read our comparisons of the features of the Lavatools Javelin vs Javelin Pro to decide which thermometer will meet your needs best.
Lavatools Javelin
The Lavatools Javelin offers a fast and accurate temperature reading for a variety of cooking uses at an affordable price. This Javelin will put your old fashioned thermometer to shame with it's four to five second readings and excellent accuracy. The compact design comes in a range of fun colors to customize it to your kitchen and it is magnetized so it can easily be stored on your fridge or oven. This thermometer is coated with antimicrobial material and is resistant to splashes.
It cannot achieve readings as rapidly as the improved Javelin Pro, taking from 1 to 2 seconds longer for each reading. While the display is large and clear and is quite easy to read most of the time, the Javelin does not make it as easy to read the display at awkward angles or for lefties as does the Javelin Pro, nor does it feature a fog free feature or shake activated backlight.
While this thermometer will fall asleep by itself to conserve battery power it must then be turned back on for use, unlike the Pro which can be shaken awake. If your goal is a straightforward and affordable kitchen thermometer that will look great and always be ready to be used, this Lavatools Javelin may be perfect for you.
Pros
Zeomic silver-based antimicrobial additive
Does not require calibration for excellent accuracy
Configurable in Fahrenheit or Celsius
Magnetic attachment makes storage easy and convenient
Water resistant so it won't be ruined by a kitchen mishap
At around $25 this is an affordable kitchen tool
Comes in a range of fun colors
Cons
Takes 4 to 5 seconds rather than 2 to 3 seconds to achieve temperature reading
Screen can be difficult to read at an angle
Must wake thermometer before use
No stabilization alert
Can't shake for backlight
Javelin Specifications
Accuracy of ± 0.9°F @ -4°F~302°F (± 0.5°C @ -20°C~150°C)
Response time of typically 4-5 seconds
Range of -40°F~482°F (-40°C~250°C)
Limited lifetime warranty
Lavatools Javelin Review
The Lavatools Javelin was made to make you into a better cook whether you are just beginning cooking or are an experienced chef. If you are accustomed to the old, cheap, sluggish thermometers that made getting a quick and accurate temperature in the kitchen a nightmare, the sleek and innovative collection of thermometers by Lavatools may change your cooking experience dramatically. This Javelin thermometer is fast, precise, and has many useful features. The Javelin is housed in a polycarbonate body that is 100% bpa-free.
This little probe thermometer packs a lot of features into a very compact and portable device. A 1.5 inch display makes it easy for you to read the temperature even though this device is so small and compact. None of the other features of a thermometer matter much if the thermometer is inaccurate. The Lavatools Javelin achieves a reading with an accuracy of ±0.9°F.
The Javelin can achieve this accurate reading in only 4 seconds so you can get your reading and keep cooking without delay. Ip65 splash resistant design will keep the Javelin safe from minor kitchen spills and mishaps. An integrated magnetic back makes it easy for you to store your thermometer on your fridge, oven, or magnetic knife block.
Such convenient storage means that you won't have to rifle through your miscellaneous drawer in your kitchen to find the thermometer, it will be readily accessible. A zeomic silver-based antimicrobial additive has been added to the exterior of the Javelin to keep it impregnable to 99.9% of pathogen growth.
Lavatools Javelin complies with the most stringent international food safety guidelines and is free from Mercury, cadmium, lead, BPA, and other hazardous contaminants. A battery life of over 4000 hours means that you can use this thermometer for a long time before needing to change the battery.
An auto sleep function will also help to maintain your battery since you won't have to remember to turn the thermometer off between uses.
Lavatools Javelin Pro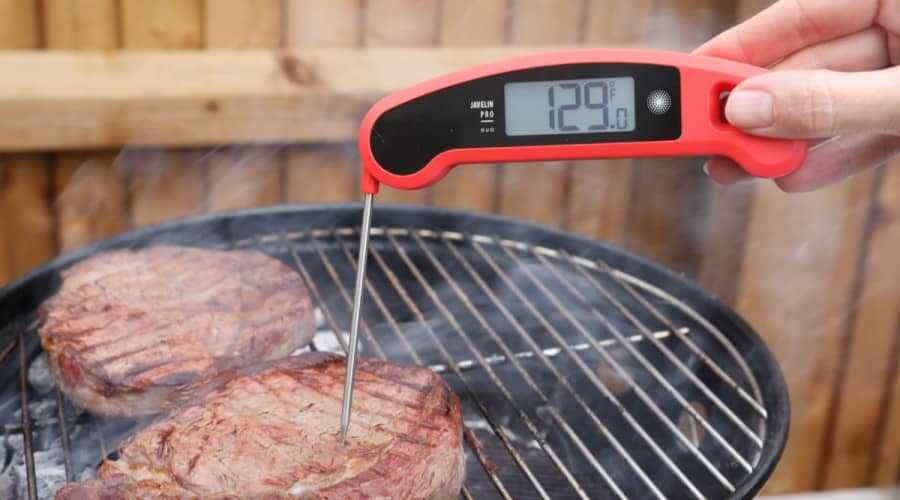 The Javelin Pro has all of the features of the Lavatools Javelin as well as some additional features and improvements that may make the additional cost worth it to you. The Javelin Pro is much easier to read than the Javelin. The display of the Lavatools Javelin Pro has an innovative design so that it is clear from any angle.
The thermometer will automatically angle the temperature at the right direction for you no matter how long you hold the thermometer, making this model ideal for lefties or those who want to quickly glance at the thermometer no matter what angle its at to see the temperature.
The display also has an anti fog feature so that it will not be affected by temperature changes around it. The Pro features an auto sleep like the regular Javelin does, but the Pro also has a motion wake feature that is convenient so that you don't have to manually turn on the thermometer to use it after it has fallen asleep.
The backlight of the Lavatools Javelin Pro is also motion activated so that you can turn on the backlight just by shaking the thermometer. Stabilization alert makes it easy for you to achieve and hold the temperature until you can easily read it. Accuracy and battery life have not been improved on the Pro, so if the advances in the display and convenience of use are not noteworthy to you it may not be worth paying the additional cost of the Pro.
Pros
Configurable in Fahrenheit or Celsius
Calibration not needed
Backlit anti-fog 2 inch display
Auto sleep and motion wake
Stabilization alert
Backlight motion activated
Cons
More expensive than the Javelin
Does not offer increased accuracy, range, or battery life for the increased price
Lavatools Javelin Pro Specifications
Response time of 2-3 seconds
Accuracy of ± 0.9°F @ -4°F~302°F (± 0.5°C @ -20°C~150°C)
Range of -40°F~482°F (-40°C~250°C)
Limited lifetime warranty
Lavatools Javelin Pro Review
If you love the Lavatools Javelin and are looking for more features by this quality company, the Javelin Pro has some great features that are worth checking out. The 2 inch display is large, clear and easy to view and also has 360 degree viewing clarity that rotates automatically depending on how you hold the device so that you can effortlessly read this thermometer every time.
Anti Fog technology means that your display won't be affected by changing temperatures. The display is ambidextrous so it will rotate no matter how you hold it, so it is perfect for lefties and for holding at awkward angles.
Innovative intelligent stabilization alert lets you know when the temperature has been reached accurately. You can press the touchpad to tell the Javelin Pro to hold the stabilized temperature so that you won't ever have to peer into the oven and guess at readings again. The Javelin Pro beats the Javelin's impressive response time.
The Lavatools Javelin Pro requires only 2 to 3 seconds to get an accurate temperature reading so that you will not be irritated waiting for your thermometer to achieve a reading. The accuracy has not changed from the ±0.9°F achieved by the Javelin so you can achieve a faster reading without compromising on accuracy.
The Javelin Pro can still run for 4000 hours on a single battery so you won't be frustrated by having to change the battery frequently. Like the Javelin, the Javelin Pro features auto sleep to help conserve battery as well. The Pro also has motion wake, however, so that you can simply pick up the thermometer to begin using it without having to worry about turning it back on.
The backlight of this probe thermometer is also motion activated. Just shake your thermometer to turn on the backlight so you can see clearly even if you do not have your fingers free. Whether you want to measure meat and bread or make candy, the thermometer can meet your needs. Like the Javelin, the Javelin Pro is free of any hazardous substances like Mercury, cadmium, or lead.