If you are excited by the potential of pellet grills to not only do a great job of smoking and grilling your food but also be useful for baking or searing but you do not want to spend a fortune on your new pellet grill, you can still find the best pellet grill under $500.
The following wood pellet grills pack many of the features of much more expensive grills into an inexpensive and effective grill. While the best pellet smoker is likely to come at a higher price range than these, you can still achieve professional seeming results with these affordable smokers.
Some, like the Z Grills, come with extras like a cover and doors that generally cost extra with other grills, even much more expensive grills. You can decide if the portability of the Traeger Tailgater 20 is more important to you than the greater size and convenience of the Camp Chef.
Also keep in mind that a smaller grill like the Traeger Tailgater does not have convenient features like an easy to clean out ash catcher, but you do have the security of a very well-known Traeger name and their high quality and efficient customer support staff.
Best Pellet Grills for less than $500
Less expensive pellet grills under $500 may be more likely to have issues with temperature fluctuation and pellet distribution, so watch your new pellet grill carefully and verify temperature with secondary thermometers so you can be sure that your pellet grill is performing as it should. It is also a good idea to calibrate temperature as the years go by, as the temperature sensing probe is often one of the first pieces of equipment to go bad on these grills.
The temperature sensing probe can often be cleaned with some steel wool and return your pellet grill to full function. Take into account the warranties and guarantees offered by companies as well as the kind of customer support that you can expect so that you do not regret your purchase decision.
Read on to consider the features of the following pellet grills to decide what is the best pellet grill under 500 for you.
Camp Chef PG24DLX Pellet Grill
The Camp Chef DLX PG24 packs a lot of features and is one of the best pellet grills under 500 that you are likely to find. This grill features a large cooking surface as well as an internal temperature sensor and meat probe.
The dump tray makes it very easy for you to clean out this grill. This grill is very efficient on pellets but it may not run as well in very cold temperatures. The Camp Chef pellet grill is easy to set up so you can be up and grilling quickly after receiving your order.
This Camp Chef wood pellet grill is covered under only a one-year warranty which is not as good as the 3-year warranty offered by some of its competition. If you are looking for a high quality pellet grill for under $500 that has features like auto start and has an easy and efficient system for cleaning out ash, this may be the right pellet grill for you.
Pros
Internal temperature sensor so you will know the temperature inside your grill without having to open the lid and use a probe
Large-capacity 570 square inches of cooking space
Patented easy to clean out ash catch
Easy to set up
Very efficient on pellets
Cons
Maintains temperature only to within 20 degrees of the target
Thermometer accurate to within only 10 to 15 degrees
Only a one-year warranty
Does not achieve high temperatures easily on cold days
Camp Chef DLX PG24 Specifications
19.5 x 22 inches, smoking/warming rack dimensions 6 x 24 inches, total rack surface area 570 square inches
Temperature range from 160° F up to 500° F
18 pound Hopper capacity
Pellet Purge system
Electronic auto ignition
1 year warranty
Camp Chef DLX PG24 Review
The Camp Chef DLX PG24 is one of the most advanced pellet grills on the market. The digital temperature control is smart to allow for very specific and advanced temperature control. The automatic auger feeds pellets into the grill to maintain perfect heat consistency and just the right amount of smoke without you having to do anything. This is a grill you won't have to babysit, just sit back and let it do its job.
This Camp Chef grill offers incredible versatility. Not only can you grill and smoke with this pellet grill but you can also bake or roast and even sear with temperatures up to 500 degrees Fahrenheit. A low 160 degrees Fahrenheit can smoke meats for many hours without overcooking. The temperature of the grill can be effortlessly toggled with the push of a button.
The ash clean out system of this grill is patented and one of the easiest on the market. Simply pull the lever and the exclusive ash clean-out system will drop all of the ash out so you don't have to reach into a chamber to sweep out or vacuum. Saving yourself the chore of vacuuming every couple of cooks makes a big difference in the maintenance of your pellet grill.
This grill is very easy to assemble and start. The Camp Chef site has a simple walk through assembly video that will get you cooking immediately. It takes only a few minutes for you to get the grill up and ready to cook.
---
Z Grills ZPG-7002B Pellet Grill
The Z Grills ZPG-7002B is a high-quality grill with accessories included for under $500. Smart Smoke technology makes it easy for this grill to maintain temperature utilizing the automatic electric feed system that keeps pellets moving into the grill for your exact temperature specifications without you needing to do anything.
This grill has some trouble with the lowest temperatures, although it will maintain temperatures above 250 just fine. If you are interested in smoking at very low temperatures, this Z Grill may not be the best for you.
Furthermore, this Grill does not have an ash clean-out or an easy way to remove pellets from the hopper so you will have some maintenance between cooks and you may be frustrated if you want to change woods before all of the pellets have been used. That said, this grill packs a lot of square inches of cooking space and comes with accessories like a cover and doors that other brands charge extra for.
Pros
Grill comes with a high-quality cover and doors that would often cost extra with other brands
Grill is very easy to set up
Offers a lot of grilling space
Lifetime guarantee
Cons
Does not come with ash clean-out
Does not cook well under 250 degrees so is not as good for smoking as some other models
Does not have port to remove pellets from hopper
Temperatures may fluctuate during cooking
Z Grills ZPG-7002B Specifications
700 square inches cooking space total
Cooking Temperature: 160°F to 450°F
Hopper Capacity:20 lbs
Lifetime guarantee
Z Grills ZPG-7002B Review
The Z Grills ZPG-7002B Pellet Grill utilizes Smart Smoke technology that allows you to set your grill and then go about your day without worrying about or maintaining it. The automatic electric feed system will keep the temperature where you set it anywhere from a 180 degrees Fahrenheit to 450 degrees Fahrenheit. The digital controller is smart and keeps the temperature within 20 degrees Fahrenheit of your setting.
This grill packs a large grilling capacity. There are 513 square inches in the main rack and 187 square inches in the warming rack so you will have plenty of room to cook as much as you need to cook for your party. The hopper can hold 20 lb which is as much food as you are likely to need to make for your event.
This grill has an internal temperature sensor so that you will always know the temperature inside without having to lift the lid. Electronic auto ignition makes it easy for you to start the grill without having to light anything yourself. For under $500, this pellet grill can perform as highly as much more expensive grills and will make your friends think you are a BBQ master.
This versatile pellet grill is able to not only smoke and grill but also bake and roast as well as sear so that you will be able to accomplish almost all of your cooking goals using just this one Grill. Z Grills backs their grill with a lifetime guarantee so that you can return it if you are not completely satisfied.
This Z Grills wood pellet grill does not have a convenient ash or hopper clean out so you will need to remove the pieces like the heat baffle and drain pan and then vacuum out the ash from the bottom regularly, which can be a frustrating chore. There is no way to clean the hopper, and there is no pellet purge system so you cannot eliminate unneeded pellets when you want to change to a different kind of wood.
---
Trager Tailgater 20 Pellet Grill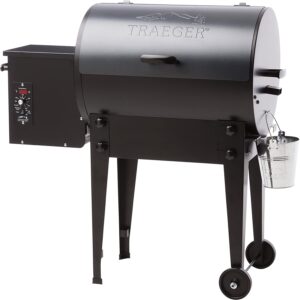 If you love the Traeger name but cannot afford to spend more than $500 for your new pellet grill, this may be the grill for you. This grill is smaller and offers less cooking space than competition but it is also portable. You can easily fold up the legs of this grill and at only around 60 lbs the average person can move the grill into a vehicle and position it at your destination.
Since this grill needs an electricity source to run, this portability may or may not be a useful feature for you. If you do lots of cookouts at churches or other places where there is a source of electricity, this portable grill may be incredibly convenient for you, allowing you to smoke, grill, or bake on the go.
This grill features some of Traeger's great features like porcelain coated racks that are easy to clean and a digital elite controller that makes maintaining temperature easy. This Traeger wood pellet grill does not have a way to easily dump out ash or change the pellets in the auger so you will need to do some maintenance between cooking.
Pros
Easy to assemble
Very easy to fold up the legs and move this grill for ultimate portability
Well known and trusted brand name for under $500
Friendly and efficient customer service
Easily clean porcelain coated grates
Cons
Instructions are not clear on manual
Temperature sometimes fluctuates wildly
Temperature probe is sometimes faulty
Less cooking surface and hopper capacity than competing grills at the same price
Does not have door at bottom to empty out pellets
Requires electricity, making it less useful as a portable device
Ash must be manually cleaned out
Trager Tailgater 20 Specifications
Hopper capacity 8 lb
300 sq in grilling area
Cooking Temperature: 160°F to 450°F
3 year warranty
Trager Tailgater 20 Review
Traeger is a very well-known name in pellet grills and the Traeger Tailgater 20 does not disappoint. This is one of the smaller grills offered by Traeger and does not offer as much space for the price as some of the competition.
This portable grill offers 300 square inches of grilling area, which is noticeably less than with competing grills. You can still fit up to 12 burgers or two whole chickens in this grill so unless you are cooking for a very large crowd you may not miss the capacity of a larger grill.
The Tailgater 20 features the digital elite controller that maintains temperature within your grill to within 20 degrees of what you set so you can feel confident of consistent temperatures. Electronic auto start ignition makes it easy to start this grill without needing to deal with charcoal chimneys or fire starters.
At only around 62 pounds, this grill is portable enough that the average person can lift and carry it anywhere. This portable model features easy fold legs that make this grill incredibly compact and easy to transport so that you can get the taste of wood fired grilling wherever you go.
Traeger coats its grill grates with an easy to clean nonstick porcelain material that makes it easy to clean the grates even after the sauciest stack of ribs. This incredibly versatile pellet grill can slow-smoke or grill meats or even bake pies or pizzas or sear for incredible variety in the sort of food that you can prepare to an expert level on this wood pellet grill.
These models are just a few of the best pellet grills under $500, you can find many more wood pellet grills available below.