Weber has a nearly cult following by grilling fanatics, due to its innovative designs, reliability, and high quality performance. It isn't unusual to see a Weber grill at BBQ competitions, and Weber's line of Smokey Mountain Cookers can compete with commercial grade smokers in the quality of tender, fall off the bone meat that is produced. Trying to decide between the Weber Smokey Mountain Cooker 18 vs 22? Read these Weber Smokey Mountain reviews to help you make up your mind.
WSM Cooker 18 vs 22
The Weber Smokey Mountain 18 and Weber Smokey Mountain Cooker 22 are both excellent smokers by Weber. Both have similar features like a built in lid thermometer, door for adding coal, water, or wood chips, and a sturdy, low impact design that won't dominate your patio.
The primary difference between these two models is, of course, in the size. The Weber Smokey Mountain 18 has 481 square inches of cooking area, as opposed to 726 square inches on the WSM 22. The 18" has plenty of room for a family BBQ but if you want to cook for the whole neighborhood, the 22" might be your best bet.
There is another important difference between these two smokers, aside from size. The Weber Smokey Mountain Cooker 22 tends to cook hotter than the WSM 18. It is difficult to keep temps below 275 on the larger model, so if you like to cook long, low, and slow, the 18 may be your better choice.
If, however, you tend to cook large slabs of meat that can tolerate higher temperatures and need more room, the WSM 22 might be the one for you. A huge water pan lets you add enough moisture to keep meat succulent, even when cooked at higher temperatures.
Weber Smokey Mountain Cooker 18
The Weber Smokey Mountain Cooker 18 is the classic Weber Smokey. This midsize WSM has enough room to cook plenty of food to feed the average family for a few days, and it cooks at low, consistent temperature that produce meat on par with food made in commercial smokers.
Pros
Mid sized smoker won't take up too much room on your patio
Plenty of cooking area for the average family
Produces commercial smoker results at a reasonable price
Portable enough to go to BBQ competitions with you
Cooks at a very low, consistent temperature
Cons
Ineffective lid temperature gauge
Ill fitted door lets in oxygen and lets out smoke unless you adjust it carefully
Not big enough for a full rack of ribs without scorching edges
WSM 18 Review
The Weber Smokey Mountain 18 is the medium sized unit in the Weber Smokey series. A cooking surface of 481 square inches is big enough for the average family to smoke whatever they want to eat–for several days. This little smoker can compete with the big commercial cookers at BBQ competitions. Don't think that you have to go big to take your BBQ seriously. This little charcoal smoker packs some punch.
If you want to be able to grill a full rack of ribs evenly, you may want to go up a size, since this Weber Smokey Mountain Cooker doesn't have room without letting the edges of the ribs get scorched. This size, on the other hand, does a great job of maintaining low temperatures, so if super slow low cooking is your style, this might be the pick for you.
Even a novice can produce excellent food on this easy to use smoker, but experts have found all kinds of tricks to make the best smoked food you can find using this affordable and convenient smoker.
Like the other Weber Smokey Mountain Smokers, this model has a lid thermometer. While this thermometer may give you a sense of what is going on under the lid, it isn't really accurate enough for producing the best possible food. Weber hasn't improved their built in thermometer, but they did add a soft grommet so that you can put your own digital thermometer in.
There is a small side door on the WSM 18 so that you can add water, coal, and wood as needed to achieve the desired cooking effect. On the 18" the door is a bit small and badly fit, so it has a tendency to let out your precious smoke and let in oxygen that causes flare ups and makes it hard to kill the coals. While you can bend the door to create a better fit, keep in mind that if you add a lot during your smoking, this might be frustrating for you.
Weber Smokey Mountain Cooker 22
Do you really like smoked meat? Make as much of it as you like in a sitting with the large surface area of the Weber Smokey Mountain Cooker 22. This big smoker cannot only fit a rack of ribs, but can even fit a couple. Because of the bullet shape, it doesn't take up too much more room on your patio than the 18" size. This charcoal smoker tends to cook a little hotter than the other Weber Smokey Mountain Cookers, so if low and slow is important to you, the 18" might be a better pick for you.
Pros
Large smoker with plenty of room for several racks of ribs
Won't take up your whole patio, despite the large cooking area
Huge water pan for moist meat
Consistent temperatures for reliable results
Cons
Tends to cook hot, and takes some tricks to get the temperature to stay down
Huge water pan is difficult to clean and can't be lined with standard tinfoil
Ill fitted door and ineffective thermometer
WSM 22 Review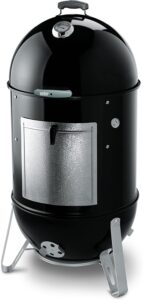 If you take your grilling and smoking seriously, and want to feed the whole neighborhood, not just your family, the Weber Smokey Mountain Cooker 22 may be the choice for you. Because of the tall, bullet shaped design, this smoker won't take up much more room on your porch or patio than the smaller Weber Smokey Mountain Smokers.
A huge cooking surface of 22.5" is plenty of room for a full rack of ribs or the biggest roast you can find. Plenty of room on the cooking surface means that you won't have to worry about the edges of your meat cooking differently than the rest. An incredibly stable temperature is maintained across the cooking surface.
It is easy to adjust the temperature by simply closing and opening the vents. That said, this smoker tends to run hotter than the Weber Smokey Mountain 18. It is difficult to get it to run below 275 degrees, so if long slow cooks are your thing, you might be frustrated by this big smoker.
If you mostly want to smoke large hunks of meat that can handle higher temperatures, this may still be a better pick for you than the smaller model, since there are tricks you can employ to get the temperature down when you need to.
The Smokey Mountain 22 has the same inaccurate lid thermometer and leaky side door of the 18". The door is a little easier to handle since it is bigger, and there is a grommet for adding your own thermometer to overcome the thermometer issue.
The WSM 22 has a huge water pan with a large surface area that delivers plenty of water to moisten your meat. This pan is so large you won't be able to easily wash it in your sink, and it is too big for even the largest size of tinfoil, so cleanup can be a bit frustrating.
We hope our Weber Smokey Mountain Cooker 18 vs 22 comparison and reviews helped you in making a more informed decision. If you would like to see electric options, please visit our Masterbuilt Electric Smoker 30 vs 40 page.