Coleman and Weber both make great portable grills, but which is better? Compare features for the Coleman Roadtrip vs Weber Q to choose the right portable grill for your needs.
Weber is a well respected name in grills, but Coleman has been around for a long time as well. So which has the better portable grill? The Weber Q and Coleman Roadtrip are both good portable grills, but there are some clear differences between them.
Coleman Roadtrip vs Weber Q | Portable Grills
The Weber Q series are tabletop grills that focus on portability, while the Coleman Roadtrip uses an attached stand that collapses into a convenient rolling suitcase type design. Weber has great diversity in the models they offer, ranging in size, shape, features like side tables, etc.
The Weber Q has a porcelain enameled grate for non stick, while the cast iron grate of the Coleman Roadtrip is nonstick as well with sufficient weathering.
Weber Q grills work with a separately sold stand, while Coleman's stand is attached to the grill, so keep this in mind when considering prices if you know you want an elevated grilling experience. Weber grills often come in more customizable colors, so if a particular color is important to you, Weber may be your better pick.
Coleman Roadtrip Grills
These Coleman portable grills are perfect to roll behind you like a suitcase on your next outing. They can go anywhere wheels can roll, for great propane grilling on the go. While these grills can't collapse as small as Weber grills, they do fold up neatly to fit in the average car trunk and make storage easy.
Coleman Roadtrip 285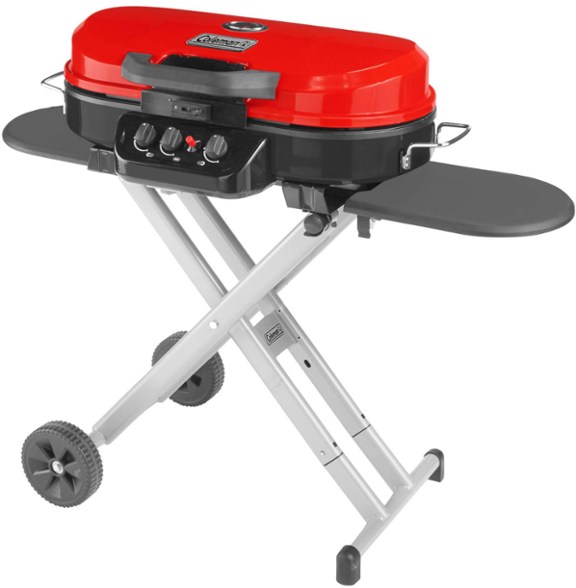 Coleman Roadtrip 285 is a great little grill for grilling anywhere you can roll it. It is one of the more powerful of the Roadrip line. Three independently adjustable burners give incredible control. At just under $230, this is a great price for an entire extra burner and more space, but you sacrifice some features compared to the smaller but similarly priced LXX.
The Coleman Roadtrip LXE has two adjustable burners and costs less than the 285 while still packing lots of great features like Instastart and PerfectFlow technology. The LXE is about the same price as the LXX but comes with a five year warranty as opposed to a three year warranty. The LXE comes in at around $200, and has all the great features of the 285 with a little less space.
The Coleman Roadtrip LXX is similar to the LXE. It has sliding tables as opposed to the attachable tables of the LXE, which can be more convenient. It also offers 2000 more BTUs of cooking power. These extra features cost a little more, putting this grill at around $240
Weber Q Grills
Weber Q Grills are sturdy little grills that pack a lot of power in a compact package. They are perfect table top grills for your next cookout, or you can purchase the stand that works with them.
Whether you want to power your grill with propane or electricity, Weber has a great portable grill for you. These grills come in a range of fun colors to match your style.
Weber Q1000 vs Q2000
The Weber Q1000 is the smallest and most affordable of the Q series. At under $190, this grill isn't an overwhelming investment. If you want a rough and tumble grill to throw into your trunk, this might be a good grill for you.
The Weber Q2000 has more cooking area, as well as convenient side tables, but it will cost a good bit more than the Q1000 at nearly $280. Remember that it will be more difficult to transport as well, so think carefully about whether the additional space is important to you.
Weber Q1200 vs Q2200
The Weber Q1200 has more features than the 1000 and costs about $30 more, although it doesn't have more space. It is equipped with side tables and has more room beneath the lid and comes in a wide range of fun colors.The Weber Q2200 has the same additional features in the larger size of the Q2000 line, and costs about $300.
Weber Q1400 vs Q2400
The Q1400 and Q2400 are electric grills that offer great convenience without sacrificing on taste. Neither have side tables or built in thermostats. The Weber Q1400 is the smaller and more affordable of the two, at around $300, but otherwise features are similar. For the roomier Weber Q2400 you will pay about $350.