If you love the reliability of the Traeger name but can't afford to spend a fortune on the highest end Traeger models, this mid-range Lil Tex Elite 22 pellet grill may be perfect for your needs. This Grill works in the same way as all Traeger Pellet Grills, creating a convection air effect that cooks your food with delicious wood smoke at whatever temperature you desire. Read this Traeger Lil Tex Elite 22 Review to decide if this pellet grill will meet your needs.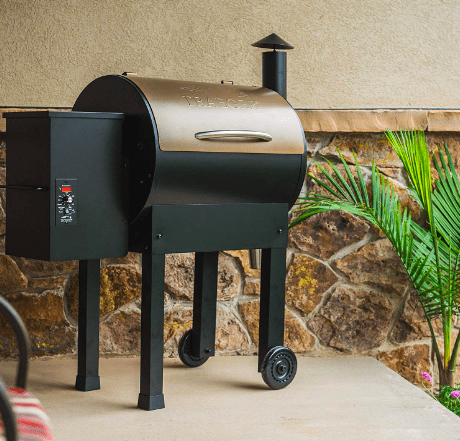 Traeger Lil Tex Elite 22 Review
The Lil Tex finds a good compromise between portability and grilling space. 418 square inches of grilling space is sufficient for plenty of hamburgers, chicken, or ribs for your party, but at around 98 lb this grill is still light enough to move easily around your property. This Traeger is easy to use and to clean up after with porcelain covered grill grates that resist even the stickiest rib sauces.
The thermometer is only reliable to about 15 degrees of the set temperature and this grill can only be trusted to maintain temperature to about 20 degrees within the set temperature, so it is a good idea to choose a high-quality meat thermometer with a probe to measure the temperature of your meat as it cooks and also to verify the ambient temperature within the grill.
The Traeger Lil Tex is a great all-purpose pellet grill that can give you the power to smoke or barbecue like a professional while also having the versatility to provide authentic tasting wood oven pizza. Convection air movement like a rotisserie gives your barbecue that special even slow cooked taste.
You can even get this grill hot enough to sear or blacken meats without getting your kitchen smokey and making your home uncomfortable for your guests. This grill can get hot fast so you can go out, sear your meats, and be eating your dinner in no time. You will find all kinds of uses for this versatile Traeger grill.
Traeger Lil Tex Elite 22 Pellet Grill
Pros
Digital Elite controller makes it easy to set the temperature of your grill
Auto start ignition much more convenient and safe than starting a fire manually
Porcelain grill grates makes clean up a breeze even after the messiest meals
Durable powder coat finish and steel construction makes for a product built to last
Relatively light weight of 98 lb makes this grill portable
Cons
Grilling surface area is a significant reduction from the Texas Elite 34
Only maintains temperature to within 20 degrees of the set temperature
Built-in thermometer readings may be unreliable
Needs to be plugged into electricity to function, rendering useless to some degree the portability
Metal legs hit the metal of the grill when folded up
Traeger Lil Tex Elite 22 Specifications
418 sq. in. grilling area
Electronic auto start ignition
18 pound Hopper capacity
Powder coated steel construction
Traeger Lil Tex Elite 22 Pellet Grill Review
Traeger is a very well-known name in pellet grills and if you are looking for the highest quality pellet grill to create the best barbecue, smoked meats, or baked foods a grill by Traeger is likely to be a good choice. The Lil' Tex is constructed of strong steel and has a powder coat finish that is designed to make this Grill durable for years to come.
The Lil Tex Elite 22 is a high-quality grill that is midway in the price range of grills made by Traeger, at just under $700. The Little Tex is easy-to-use and convenient enough that there is a good chance it will replace your other cooking devices on any nice day. You can cook foods rapidly at very high heat or take hours to slow cook your meats to perfection.
Wood pellets taste better than charcoal or propane, infusing the food with a delicious smoky flavor that is reminiscent of cooking over wood campfires. Unlike burning wood, however, wood pellets are made of a compressed sawdust that burns very evenly and regularly for consistent cooking temperatures.
The Traeger Lil Tex Elite 22 grill carefully delivers the pellets to the fire at just the right rate to maintain the temperature that you set. All you have to do is make sure the hopper stays full of fresh pellets. You can choose between a wide range of all natural hardwood pellets with delicious flavors like apple or cedar.
This Traeger pellet grill offers 418 square inch of grilling space so that you can accommodate all of the food for your party. Fit 16 burgers or four whole chickens so you can feed your whole party with one grill. The hopper can fit 18 pounds of pellets so that you can cook for a long time without having to worry about refilling the hopper.
This grill keeps temperature within 20 degrees Fahrenheit and makes it as easy as turning a dial to adjust the temperature. It isn't a bad idea to have a separate thermometer to verify the temperature within the smoker and also probes to get the temperature of the meat. A high-quality thermometer like the ThermoPro or Maverick can allow you to verify the temperature not only inside your pellet grill but also the temperature of the meat itself. Making certain that every cook is perfect.
For some delicate goods, a 20-degree temperature fluctuation can be frustrating. All pellet grills sometimes take a little while to cycle through pellets and achieved a consistent temperature at the setting you desire. Having a separate thermometer to verify when a consistent temperature has been achieved can make the difference between cooking in a consistent environment and having temperature fluctuations.
For most cooking done on your Traeger Lil Tex Elite 22 Pellet Grill, it will not matter too much that the temperature fluctuates within 20 degrees. Food will still stay within the range of temperature that is ideal for smoking or barbecue and if you are searing the temperature will stay high enough to achieve the sear that you are looking for. This Traeger pellet grill will deliver more consistent as well as more delicious results than your old propane or coal grill.