Z Grills Vs  Traeger are both respected names in pellet smokers. Traeger is almost a synonymous name with pellet grills since they invented the first pellets and pellet grills, but Z Grills has developed a system that offers meaningful competition to Traeger. Read on to decide whether Traeger vs Z Grills are a better match for your needs.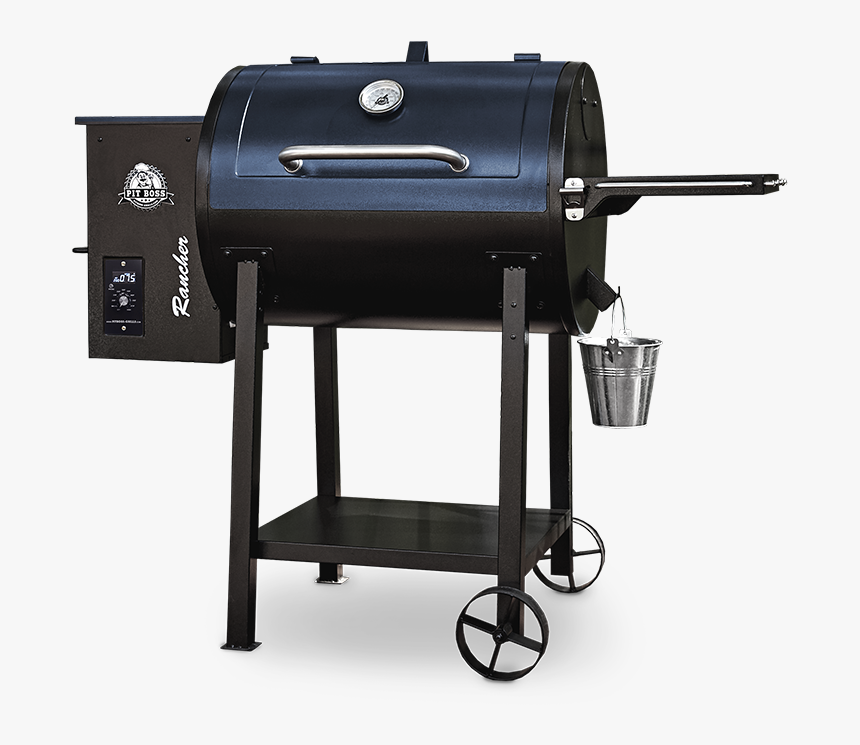 Z Grill vs Traeger | Pellet Grill Comparison Guide
Z Grills are more consistent in mid-range temperatures without the need to adjust the pellets, so if it is very important to you to have a set it and forget it style grill and smoker the Z Grill may be more desirable for you.
Traeger grills, on the other hand, offer more control at lower and higher temperatures than does the Z Grille, while you may need to maintain these temperatures by adjusting the pellets in the hopper while you are cooking.
The Z Grill offers similar features at often lower prices. They only offer several grills as opposed to the nearly dozen offered by Traeger, but for the average backyard griller, best selling mid-range grills from both companies are comparable.
The Traeger TFB42LZBC Grills Lil Tex Elite 22 Wood Pellet Grill and Smoker – Grill, Smoke, Bake, Roast, Braise, and BBQ comes in at around $700 and allows versatile cooking with 418 square inches of grilling space.
The Z Grills Wood Pellet Grill and Smoker 700Sq in. With Seri-2 Contrlol Systerm For Outdoor BBQ, Smoke, Roast, Bake, Braise, Grilling 7-in-1 Barbecue Grill is priced a couple hundred dollars cheaper but offers similar features as well as an additional hundred square inches in the rack.
Wood Pellet Grills by Traeger and by Z Grills can function as an oven as well as a smoker or grill, but keep in mind that they will never be able to maintain consistent temperature to within the exact degrees that your oven can so when baking you will need to keep a closer eye on the grill than when smoking or grilling.
Traeger vs Z Grills
---
Traeger Pellet Grill
Traeger was the first maker of pellet grills and they are still one of the most trusted names in the industry. Their years in the industry have allowed Traeger to develop a wide range of pellet grills to meet the needs of backyard hobbyists or professionals.
The huge Timberline 1300 pellet Grill could cook enough food to serve the needs of a small restaurant, while the cute little ptg + pellet grill offers tabletop grilling and smoking at a very reasonable price just under $300.
Whatever size and price you are looking for, you can feel confident that the Traeger name will give you a grill that will last you for years. A 3 year limited warranty on Traeger residential products can set your mind at rest about your purchase.
Pros
Oldest name in pellet grills can give you confidence in your purchase decision
Porcelain coated grill grates for no-stick cooking
Versatile design allows you to grill, bake, smoke, or sear all-in-one grill
Powder coated steel will last for years
Classic rounded smoker looking designs
Cons
Cover and accessories must be purchased separately
Wheels are not as rugged as those of the Z Grill grills
Grill may go out on smoke setting in windy conditions
Requires more observation and refilling of pellets than Z Grill
Comparable grills to Z Grill do not offer as many square inches of grill space<
Slightly more top-heavy than the Z Grills
Traeger Review
In the 1980s people were trying to find a more sustainable way to heat their homes with wood than using logs. The Presto log was invented around this time made from sawdust that was a waste product of other wood production.
Traeger utilized this technology of using compressed sawdust for the purpose of making sustainable and evenly burning fuel. He successfully created a pellet stove that became popular throughout the North, but this was not the end for the trajectory of Traeger's pellets.
He created his pellets from orchard trees in his area that were too old to produce fruit. He chipped and finely ground them up, and made them into pellets that burn cleanly and produce a delicious fruitwood flavor. Once he had his pellets, Traeger wanted to find a way to evenly cook food using the heat produced.
He made an auger that would turn pellets from the hopper to a fire pot so convection air could be infused into the food, cooking it and infusing a delicious taste as well. This was the birth of Traeger wood pellet grills.
The grill worked in a similar way as the stove did, using a simple 3 option switch. Pellets went from the hopper into an auger and from there into the fire pot where a fan stoked the fire to distribute heat. Early grills were manually lit but as time has gone on devices have been created to automatically light.
Pellets have no additive except for vegetable oil which helps lubricate during production. They are small and evenly sized and so they light easier than charcoal and also burn more cleanly. Since they can be made of specific woods, they offer specific delicious smoky tastes that will please any barbecue lover's palette. The continual fuel source of an auger feeding pellets into the fire pot means that you don't have to worry about consistent heat since the fuel source would be consistent.
This grill allows you to have the consistent burning and worry free cooking of propane with the delicious smoke infused flavor of charcoal or wood. Since wood pellets are a waste product of other wood manufacturing and since they burn more cleanly than coal you can feel good about this decision.
Since Traeger was the first to introduce pellet grills the name has been synonymous with them ever since. Even as many other pellet grill makers have entered the market, Traeger has maintained a reputation for high-quality wood pellet grills. The time they've spent making these grills has also enabled them to develop a range of innovative designs, ranging in price from a few hundred dollars to thousands of dollars.
Traeger Grills are designed around an easy cooking experience. They work best when you set them and leave them alone. As long as there are fresh wood pellets in the hopper this grill will maintain a steady temperature. This means that you can let this grill go about it's business cooking your food at a low temperatures for fall off the bone meats for hours at a time without worrying about it.
Because these wood pellet grills cook with such even temperatures, they are awesome for delicate meats in which you want very even cooking and where a hot spot could ruin the dish. They are also excellent for fatty meats that otherwise could cause an oil flare up on a traditional grill. This grill will allow you to cook delectable and delicate meals like bacon-wrapped scallops evenly and safely.
If you love smoky flavor then these grills might be right for you as well. Since the pellets themselves infuse the natural smoky flavor you will not need to add wood chips like you would with charcoal. You can also choose between a wide range of different flavors from hickory, to apple, to oak, for meals that have the exact flavor you are looking for.
Traeger will even help you choose which wood will give the best flavor to which food on their website.
Traeger Grills are designed to be easy to clean and to last through the decades. You can still find some of the early Traeger Grills used today, a testament to their ability to last.
One of the best-selling midline grills by Traeger is the Traeger Lil Tex Elite 22 Grill and Smoker. This Grill offers 418 square inches of grilling area so that you could fit up to 16 burgers or four whole chickens at a time. Even though this is considered one of Traeger's smaller smokers it still packs plenty of room for most households.
This grill features a digital controller that makes it as easy to set your temperature in your smoker as it is in your oven. It maintains temperatures within 20 degrees. Take your time and smoke slowly on the smoke setting or rapidly bring it up to 450 degrees. This grill features an auto start ignition so you won't have to deal with fire starters or charcoal chimneys anymore or take the risk of lighting propane with a match. Simply flip the switch and you're ready to go.
The grill grates are coated with non-stick porcelain to make them easy to clean even after a saucy stack of ribs. Traeger Grills are built to last and this powerful steel construction and durable powder coat will keep you smoking for years . Perhaps the greatest asset of a grill like this is incredible versatility.
Whether you want to smoke a classic rack of ribs or grill a woodfired pizza, or even if you would like to make an apple pie, you can do it all in this smoker. In nice weather, you may find that you barely use your oven anymore.
---
Z Grills Pellet Grill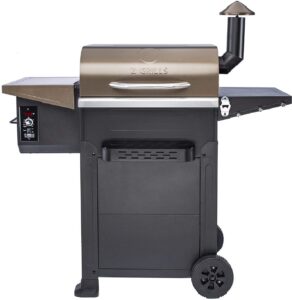 Check Prices
Z Grills are designed with your convenience in mind. They are some of the easiest set and forget pellet grills. They do not offer as good self-cleaning as the Traeger Grills and so they will need to be vacuumed out every few uses, but while you are grilling you will not need to check on your grill or add pellets as often as with other pellet grills.
Z Grills also offer more square inches in their grills than Traeger. Between the main cooking rack and the warming rack, you will be able to accommodate all the food you would need for an average party.
Pros
Comes with cover
Easy to use set and forget it design
Sleek attractive design
Many people consider Z Grille sturdier and better constructed than Traeger
Easy assembly
Cons
Ashtray needs to be cleaned out every few uses as there is not a good auto clean feature
No port to remove pellets from hopper, so it is difficult to change pellets for different wood smokes between cooking sessions
Does not cook well at temperatures below 250
Customer service is not as good as with Traeger
Tends to run high
Z Grills Review
These grills are newer to the market then Traeger but are by no means new kids on the block, having produced quality grills for over 30 years. Every grill that Z Grills sells on Amazon has a 3-year warranty so you can have some confidence in your buying decision.
There is also a 30 day return guarantee if you decide that this grill is not what you wanted. Z Grills are made of a powder coated steel that can last just through the years. Unlike the wide range of options available from Traeger, Z Grills has focused on only three machines to cover all of your potential grilling needs.
The ZGrills Pro 7002 offers 700 square inches of grilling space so you will have plenty of room for everything that you want to grill. The all-terrain wheels are heavy duty to help you move your grill across any kind of backyard terrain. The rack is rust proof but is not porcelain coated like Traeger's grills so you may have more difficulty removing stuck on debris.
The automated feed system will maintain temperatures from a low 180 degrees Fahrenheit for smoking to a blistering 450 degrees Fahrenheit. The consistent feeding and temperature means that you can set this grill and walk away. Just like the Traeger, this grill can not only barbecue and smoke but can also bake and sear so it can accomplish far more cooking tasks than a traditional propane or charcoal grill.
The ZGrill has focused on the set-it-and-forget-it ability of a pellet grill and it truly has mastered this capacity. It is one of the most hassle free grills available with its high quality digital controller and the Smart Smoke technology that allows it to heat up very rapidly. A lack of auto clean up system means that you will need to vacuum out the ash every few uses.