Weber Genesis II E-410 Gas Grill Review
Carefully consider all of the features of this powerful grill in this Weber Genesis II E-410 Gas Grill Review. View Pro's and Con's of this Genesis 4 burner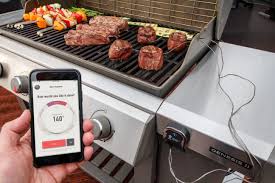 Four burners and 48000 BTU per hour of power make this Weber Genesis II E-410 gas grill a serious grilling machine that can provide your large party with plenty of food for everybody. This grill has all of the features of the Weber Genesis II E-310 in a four burner design that can turn out some serious grilled food.
646 square inches of cooking area is as much room as you are likely to need to cook food for everybody. 198 square inches of warming rack area lets you keep your more quickly cooked foods warm until everything is ready.Carefully consider all of the features of this powerful grill in this Weber Genesis II E-410 Gas Grill Review.
Pros
4 burners
Enameled cast iron grates
Enameled flavorizer
iGrill compatible
Cons
Exposed grease catch system
No doors
Weber Genesis II E-410 Gas Grill
Check Current Price
Pros
Four burners with 48000 BTU of power
More surface area than competing grills
Tuck away warming rack for convenient cooking
Infinity ignition so you will never have to worry about your burners not lighting or going out
Porcelain enameled flavorizer bars for smoky flavor in a gas-powered grill
Innovative grease management system that reduces the risk of flare-ups
Porcelain enameled cast Iron cooking grates that will be stick free for years to come
Porcelain enameled lid conserves heat well
iGrill compatible for complete control over your cooking experience
Sturdy stainless steel side tables
Cons
4 burner design comes at a increased cost over similar 3 burner grill
Exposed grease catch system may cause grease to get blown around on windy days
Lack of doors means that things stored in the oven are exposed to the elements
Models with red color may not look as pictured
No sear feature so if you want a lot of heat this grill may not be able to meet your expectations
Bulky and heavy
Must use all burners to cook effectively
Weber Genesis II E-410 Specifications
10 year warranty
48000 BTU per hour
646 square inches of cooking space
198 square inch area
4 stainless steel burners
Weber Genesis II E-410 Gas Grill Review
The Weber Genesis II E-410 Gas Grill was made with serious backyard grilling enthusiasts in mind. Weber has been making grills for over 30 years and this Weber Genesis features the high-performing results of their experience. The GS4 grilling system is extremely high performance, setting new expectations for what backyard grilling can be. This innovative system considers the needs of grillers to provide a more comfortable grilling experience than you are likely to have had before.
The Infiniti ignition system guarantees that the burners will light and stay lit for consistent and worry-free cooking. The burners are uniquely designed with a tapered shape that offers a flow that is perfectly consistent all the way from the front of your grill to the back. Such even heat distribution will allow for your food to be cooked perfectly no matter where on the grate it is placed.
Weber has created a clever solution for the tasteless cooking of propane. Many charcoal and wood grill enthusiasts complain that propane grills cannot deliver the same smoky flavor. Weber solves this problem in their Weber Genesis II E-410 Gas Grill by integrating flavorizer bars that are perfectly angled to catch drippings.
These drippings will then smoke and sizzle, giving your meat a delicious smoky flavor that characterizes great barbecue. Any drippings that are not vaporized by the flavorizer bars are channeled into the grease management system so you won't have to worry about dangerous flare-ups to get great taste.
Flare-ups can be very dangerous, and the innovative grease management system of the Weber Genesis prevents this danger while still allowing your food to get a delicious smoky taste. Grease that is not vaporized is channeled into the disposable drip tray that is in the catch pan under the cook box. A disposable drip tray means that you won't have to deal with washing out the greasy mess, you can just dispose of this drip tray when it is full and replace it with another.
The Weber Genesis II E-410 Gas Grill has cast iron cooking grates that are porcelain enameled for non stick cooking for years to come. This grate is double sided so that you can choose a thick substantial grate to get an attractive sear mark on your steaks or burgers or a thinner grate that is ideal for cooking delicate meats like fish and shrimp that you don't want to stick to the grate or get too seared.
This Genesis II 4 burner is designed with an open cart design that provides plenty of room for all of your grilling tools and makes accessing them easy. The side tables are sturdy and provide a place for you to put your sauces while the integrated tool hooks offer the perfect place to hang your grilling tools where they won't get your working surfaces messy but will still be on hand.
The warming rack of the Genesis is tucked away until you need it so that you can utilize all of your grilling surface while you are cooking and then drop down the warming rack when some foods are done so that they can stay warm while the rest of the food cooks.
This Weber Genesis grill is iGrill 3 ready so that you can connect up to four thermometer probes into your meat as well as measuring the ambient temperature within your grill for perfect temperature control throughout your cook. The iGrill 3 will transmit information about the temperature as well as the level of your tank to your mobile device using an app so that you will always be in touch with your grill even if you aren't right next to it.
The Weber Genesis II E-410 Gas Grill delivers 48000 BTU per hour to its four burners so you have plenty of control and power over your cooking. This grill comes at an increased cost over the  Weber Genesis II E-310 so if you do not need four burners it is worth considering going for the slightly smaller model. If you are looking for a highly stylish grill and are considering going down in size, the Weber Genesis II S-310 has most of the same features in a beautiful stainless steel design that will be the envy of all of your friends.