When you want to be able to see the temperature of your measurement area, you want a thermal imaging camera. Thermal cameras by Fluke are made to the highest quality so you can feel confident that you will get a clear and accurate picture that can tell you what you need to know about what you are photographing.
Whether you need an infrared camera that can shoot at long distances accurately or whether you want a straightforward infrared camera to make sure there are no issues with gas or other potentially dangerous problems in your home, Fluke makes a thermal imaging camera that will fit your needs.
Fluke thermal imagers are rugged and durable enough to last for a long time and meet the needs of whatever industry you need a thermal imaging camera for, from facility maintenance, building diagnostics, HVAC, electrical, or oil and gas detection. You can even find a thermal camera versatile enough to meet a wide variety of needs in one device.
1. Fluke Ti480 PRO Infrared Camera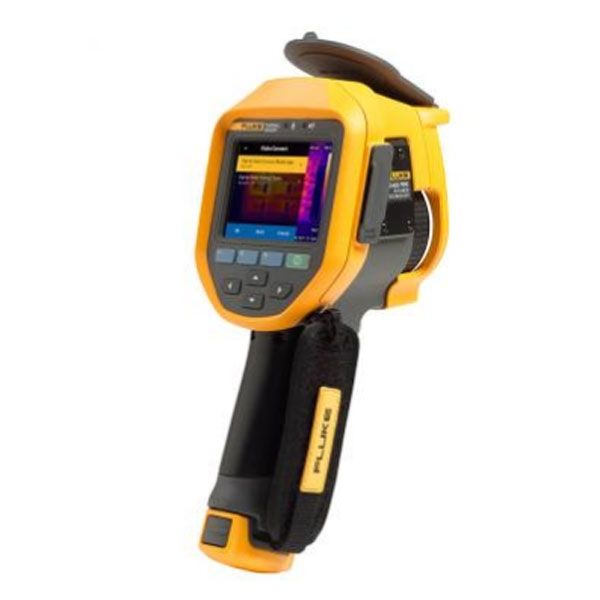 This Fluke Ti480 Pro offers increased sensitivity for visualizing differences in temperature due to the super resolution which can capture multiple images and combine them into a 1280 by 960 image. It measures temperatures from ≤-10 °C to +1000 °C (14 °F to 1832 °F). Visualize targets from tiny to large using smart lenses that are interchangeable and require no calibration for 2x and 4x telephoto, as well as macro lens and wide-angle compatibility.
---
2. Fluke Ti450 PRO Infrared Camera
The Fluke Ti450 Pro provides super resolution that can provide an image measuring 640 x 480 or 307,200 pixels an image. Infrared resolution of 76,800 pixels, MultiSharp™ Focus, and LaserSharp® Auto Focus provide a clear image every time while the laser distance meter calculates distance to your target for a precisely focused image. Measure from -10 °C to +1500 °C or 14 °F to 2732 °F.
3. Fluke Ti480 Infrared Camera
The Fluke Ti480 provides 1280 x 960 resolution due to SuperResolution and utilizes MultiSharp™ and LaserSharp® Auto Focus that work with the laser distance meter to produce a sharply focused image every time. 2x and 4x digital zoom work with pre-calibrated lenses including 2x telephoto, 4x telephoto, wide angle, and 25 micron/macro so you can always get the exact image you want. This infrared camera can measure temperatures from ≤ -20 °C to +800 °C (-4 °F to 1472 °F).
4. Fluke Ti450 SF6 Gas Detector
The Fluke Ti450 SF6 is designed for gas detection with SuperResolution on gas mode that offers 320 x 240 or 76,800 pixels and SuperResolution on infrared mode that provides 640 x 480 or 307,200 pixels. You can measure from -20 ̊C to +1200 ̊C (14 ̊F to 2192 ̊F). A minimum focus distance of 15 cm or about 6 in will let you focus up close and SF6 gas only gas detection can meet your gas detection needs.
5. Fluke Ti450 Infrared Camera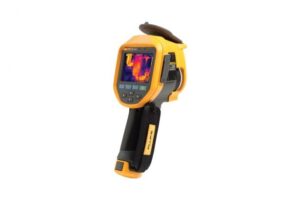 The Fluke Ti450 offers 640 x 480 with SuperResolution and provides a sharp image with MultiSharp™ and LaserSharp® Auto Focus. A laser distance meter calculate the distance to your target so your images stay focused and the distance is displayed on screen. A temperature range of -20 °C to +1200 °C or -4 °F to +2192 °F provides a wide range of temperature detection.
6. Fluke Ti400 Infrared Camera
The Fluke Ti400 provides 320×240 or 76,800 pixels of resolution with a minimum focus distance of 15 cm (approx. 6 in). Optional lenses include a telephoto lens and a wide angle lens. The LaserSharp® Auto Focus provides for crystal clear, sharp images and the temperature measurement range is from -20 °C to +1200 °C (-4 °F to+2192 °F). IR-Fusion® technology and AutoBlend™ mode allow for Picture-in-Picture.