Pros
Price
Good Temperature Range
Accurate Readings
Best Seller
The Etekcity Lasergrip 1080 is an inexpensive versatile infrared thermometer that can be used for a wide variety of home or industrial uses to accurately gauge temperature. A very high top temperature of 1022 degrees Fahrenheit means that this IR thermometer can measure the vast majority of materials that it would need to measure for your home or light industrial uses.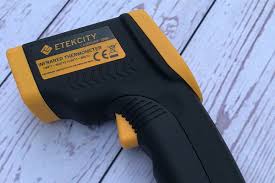 The built-in laser makes it easy for you to pinpoint where you want to measure, but you can turn it off as desired if you are measuring a broad surface or don't want to bother other people around you. An optional laser raises this Etekcity lasergrip 1080 a head over those thermometers that only offer point-and-shoot measurements without laser direction.
Etekcity Lasergrip 1080
The LCD screen of the Etekcity Lasergrip 1080 can be optionally backlit for reading in dark conditions, or you can turn it off to save battery life in bright conditions. This thermometer is very easy to use. Anyone in your family or team can gauge temperature by turning it on and pressing the trigger.
Emissivity is not adjustable, so this is not the best IR thermometer for measuring reflective or translucent surfaces. An accuracy of 2 degrees is good enough for most uses, but keep this inaccuracy in mind if a very accurate reading is important.
The tendency of the measurement point to be about 2 cm below the infrared aiming point will not affect most uses, but keep this in mind if measuring a very small area. The Etekcity lasergrip 1080 can measure best at about 14.17 in from the target, but can provide accurate measurements at other distances as well. Choose between Celsius and Fahrenheit for the thermometer reading that is most comfortable for you.
Pros
Measures very high temperatures for the highest temperature reading required for most home or industrial uses
Backlit LCD screen so you can read and bright or dark conditions
Reads in Celsius or Fahrenheit
You can turn backlight and laser on or off as desired
12 to 1 distance to spot ratio provides better accuracy than lower competing thermometers
Cons
Not as high a distance to spot ratio as more expensive thermometers
Fixed emissivity means that you cannot adjust for translucency or reflectivity of material being measured
Only accurate to within 2% or 2 degrees, the same as competing thermometers
Etekcity Lasergrip 1080 Specifications
Temp max and min: -58℉ to 1022℉(-50℃~550℃)
Distance to Spot ratio: 12:1
Emissivity: 0.95(fixed)
Accuracy: ±2% or 2℃
Etekcity Lasergrip 1080 Reviewed
The Etekcity Lasergrip 1080 has a versatile design that can help you measure temperatures whether you are maintaining your home or car, need to measure temperatures for your industrial related business, or want assistance in smoking, barbecue, or measuring the temperature of your oven. A temperature range from 58℉~1022℉/ -50℃~550℃ gives you versatility to measure as high a temperatures as you are likely to need to measure.
The distance to spot ratio is 12 to 1, so it is not able to read as far as the Etekcity Lasergrip 800 but 12 to 1 is good enough for most home or shop needs. The built-in laser allows you to pinpoint exactly where you want to measure with excellent accuracy so you won't have to guess at where your thermometer is pointing.
A backlit LCD screen makes it easy for you to read temperatures indoors or out and in broad daylight or in the dark. This thermometer is incredibly easy to use. Just turn it on and press the trigger to begin reading the temperature. The temperature will be displayed in clear text whether you choose Celsius or Fahrenheit.
You can turn off the laser if you are measuring a broad area in which a laser is not required and may be distracting for other workers. The backlight can be turned off as well to save battery life and turned on when needed in dark conditions. The emissivity of this thermometer is not adjustable, so this thermometer will not be as accurate at reading surfaces that are translucent, transparent, or reflective.
The accuracy is within 2% or 2 degrees Celsius, which is accurate enough for most home and industrial uses. Keep in mind that the measurement is not precise to within two degrees if you require a high level of accuracy.
The infrared aiming point measures about 2 centimeters above the actual temperature measuring area, so keep in mind that this IR thermometer does not read precisely the area that you see with the laser finder if exact area measurement is required. The best distance for measuring accurately is 14.17 in from the target.
Not sure this is the right option for you? Then check out our other top Etekcity reviews such as the Etekcity lasergrip 800, Etekcity lasergrip 774 and Etekcity lasergrip 630.