Noritz is a leader in the tankless water heater market for over 60 years. Introducing the first modern, electronically controlled on-demand tankless water heater back in 1981.
Today they are still innovators in delivering hot water and energy savings. Continue reading for more info in this Noritz NRC661-DV-NG Review.
As you conduct your research you need to determine what type and what size tankless water heater you're going to need. There are so many options to chose from.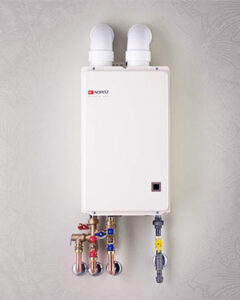 There's indoor mount and outdoor mount. The outdoor mounted on-demand water heaters would be best suited for locations in warmer climates as temperatures in winter can get extremely cold.
Then there's natural gas or Liquid Propane (LP) fuel types to chose from, even electric models. These Noritz tankless water heaters like a lot of other models are high efficiency, saving you money by only heating water when there's demand for it.
---
Noritz NRC661-DV-NG Review
This Noritz NRC661-DV-NG is an indoor mount only with direct vent. It's a natural gas condensing model rated at 6.6 gallons per min (GPM). This tankless water heater is ideal for small homes, 2 bathrooms in southern climates and 1.5 bathrooms in northern climates.
Noritz On-demand tankless water heaters will provide endless hot water when properly sized for the home and demand. Being high efficiency helps energy savings as well as thousands of gallons of water over the year.
Noritz 661 Tankless Water Heater Installation
This Noritz NRC661-DV-NG Indoor Condensing Direct Tankless Hot Water Heater can be installed by a DIYer. Before taking on this project be sure to read the installation manual to make sure you have all the tools and materials needed.
Outdoor mounted tankless water heaters can be easier to install because you don't have to worry about getting the exhaust vent through an exterior wall. Although you would still have a gas and water lines to get outside.
The venting material on the Noritz 661 tankless water heater is schedule 40 PVC versus the expensive stainless steel required by some other brands.
Specifications
Dimensions: 6.7 x 13.8 x 23.6 inches
Weight: 38 pounds
Fuel Type: Natural Gas
BTU's: 120,000
Gallons per minute (GPM): 6.6
Pros
Highly efficient
Endless hot water
Uses schedule 40 PVC for venting
Easy to install by DIYer
Quiet operation
Compact design
Trusted Brand
Great customer feedback
Cons
Delay in hot water, as with all tankless heaters with no recirculation pump
Best for small homes up to 2 bathrooms
Conclusion
No matter the reason for looking at this Noritz NRC661-DV-NG tankless water heater, it's a great choice. It's high efficiency and provides consistent on-demand hot water for smaller homes with up to 2 bathrooms. If you have a larger home, Noritz has a model for you.
No more worrying about running out of hot water in the middle of a shower. Or having to wait for a while after someone just gets out of a shower to take one.
With a Noritz NRC661-DV-NG tankless water heater, you won't come home to a flooded floor when it goes out, like standard tank water heaters. This is one benefit of these types of water heaters.
Installation of this water heater can be done by a DIYer to save hundreds if not $1000+. Just be sure to read the manual and have all materials and tools to get the job done.
We hope this Noritz NRC661-DV-NG review gave you some additional info, to make your buying decision easier. Be sure to view our other tankless water heater reviews, if this model is the best option for you.