ThermoWorks Thermopop Review
The Thermopop by Thermoworks is a cute, effective, and affordable thermometer for serious chefs and amateurs alike. Decide if this affordable $34 thermometer will meet your needs with this ThermoWorks Thermopop Review.
This fast thermometer obtains readings in only three to four seconds. It features molded-in seals and buttons to make it splash proof. This thermometer is so easy to use that most users won't have any errors. The wide range of temperature readings made possible by this thermometer allow you to measure the temperature of frozen food or frying oil with equal accuracy.
You can switch between Fahrenheit and Celsius easily. The display of the Thermopop rotates in four different positions so that it can easily be read from any angle. The display will stay backlit for ten seconds after you turn it on so you can see the temperature clearly but don't waste battery. After ten minutes, the thermometer automatically turns off, so if you forget to turn it off after you are done using it, you won't have to worry about your battery being drained.
Since this is a tool that can read from -58 to 572 degrees Fahrenheit, you can use it for a wide range of applications. While it may not be as accurate or have as many bells and whistles as much more expensive thermometers, this is a very effective little thermometer for most uses.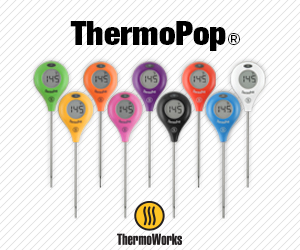 Click Here for Pricing, Pictures, Ratings and Reviews
Specs
● Probe Range of -58 to 572°F (-50 to 300°C)
● Accuracy of ±2.0°F (±1°C) from -4 to 248°F (-20 to 120°C)
● 4.5 inch probe
● 5000 hour battery life
Pros
● Affordable pocket thermometer
● Durable against splashes and rough handling
● Auto-off after ten seconds to conserve battery
● Measures very wide range of temperatures
● 5000 hours of battery life
Cons
● Not as accurate as more expensive thermometers by ThermoWorks
● Can be damaged by dropping or touching probe to flame or coal
● Probe cannot be bent
Conclusion
If you don't want to spend up to $100 on a pocket thermometer, but still want a device with high accuracy and quick readings, the Thermopop might be the tool for you. This thermometer may not last as long or be quite as accurate as the Thermapen, but it offers very good performance and durability for the price. Plenty of convenient features makes it nearly as pleasant to use as more expensive thermometers.
Thermopop vs Thermapen MK4
The Thermopop and Thermapen MK4 are both beloved tools in kitchens throughout America, but how do they compare to one another? The MK4 has more bells and whistles and comes at a higher price as a result.
The most important difference between these tools for most chefs is the accuracy. Thermapens use a Thermocouple Sensor to detect temperature. This sensor is faster and more accurate than the Thermistor Sensor in the Thermopop, and it stands up to abuse better as well. This technology is newer and more expensive, but if perfect accuracy is very important to you, you won't want to settle for anything less.
You can recalibrate your Thermapen, even after the two year warranty period. It is inexpensive to recalibrate so you will be able to accurately measure with your Thermapen for many years to come. With the Thermopop, you are more likely to throw it out and get another if anything goes wrong.
If you tend to lose your kitchen tools or are very hard on your equipment, you may prefer a more disposable model than the investment of the MK4. If, however, accuracy is very important and you will be using the thermometer in a contained environment, like a home brewery, the investment into accuracy will be worth it to you.
The folding probe utilized by the Thermapens is easier to store and keeps the probe safe when not in use. If you want even more wear from your Thermapen, you can purchase a separate magnetic heat and shock resistant silicone boot, an option not available for the Thermopop.
The Thermapen is designed to be an investment into your cooking that you are making for the long term. Durability, the capacity for recalibration, and the optional protective sheath all set this thermometer up to last through the years, which is essential at this price. The Thermapop, on the other hand, is more of a use it and lose it sort of device. It is a fraction of the cost of the Thermapen, and has good, although not as good, accuracy.
Looking for more Reviews?